Soft & Chewy Sugar Cookies
Soft and chewy sugar cookies with an amazing cream cheese frosting
After you've tried this chewy sugar cookie recipe, be sure to try these snickerdoodle cookies, these peanut butter cookies, or these oatmeal cookies!


Chewy Sugar Cookies
It doesn't get much better than a super soft and chewy sugar cookie piled high with the BEST cream cheese frosting and a plethora of sprinkles. These are the ultimate chewy sugar cookies and I hope you love them as much as we do!
This cookie dough isn't mean for cut-out sugar cookies (my favorite sugar cookie dough for cut out cookies here), but meant as a big and soft bakery-style sugar cookies.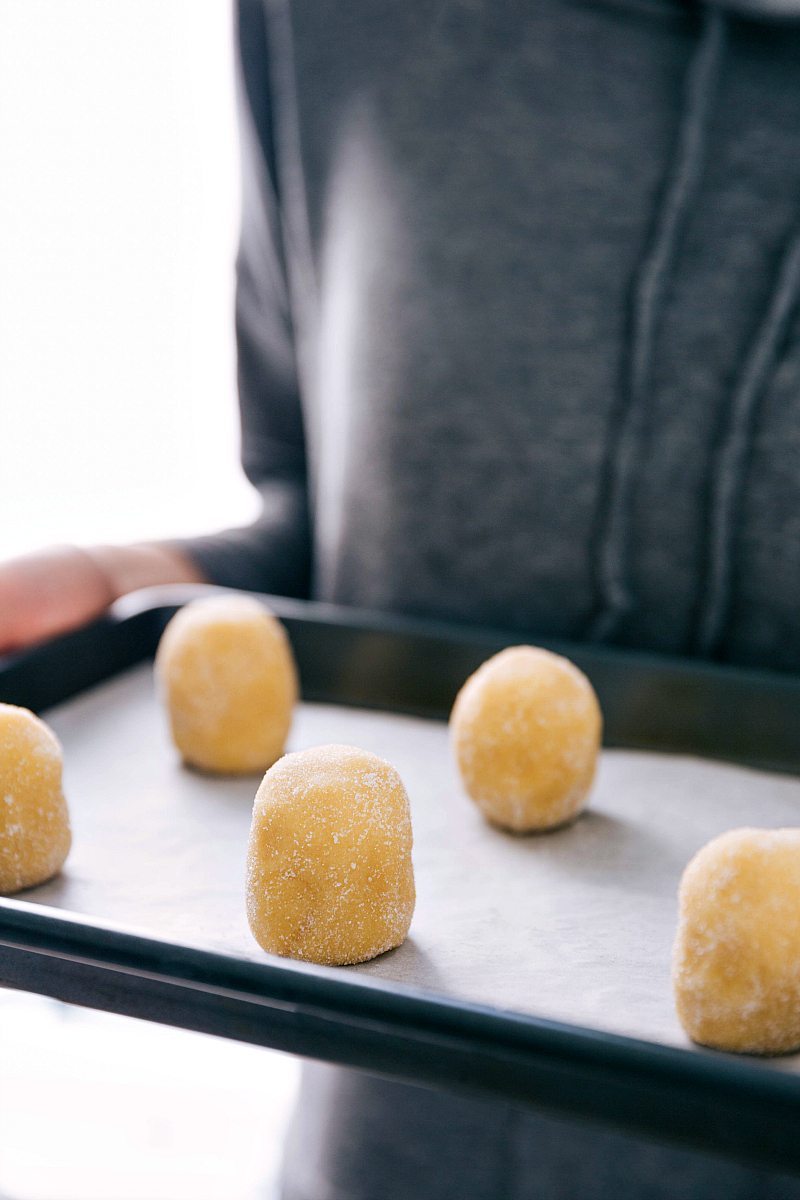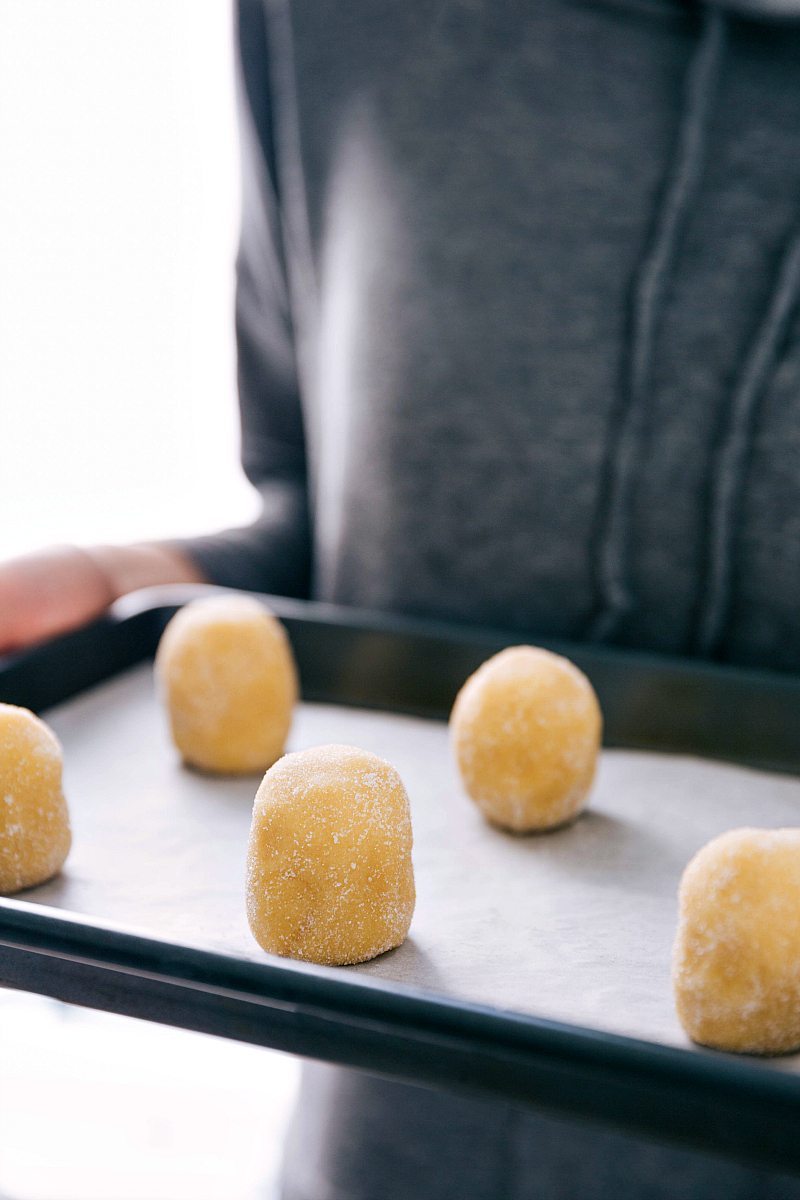 How to make the BEST Soft & Chewy Sugar Cookies:
For these cookies we start with partially melted butter. I don't melt it all the way because I've found it tends to make the cookies a bit greasy.
When you melt butter for cookie recipes, chilling the dough is a MUST before baking. This matters because the fats need to re-solidify. If the dough is baked immediately with melted butter in it, the cookies will spread while baking and become thin, hard, and crispy. The longer the fat stays solid, the less the cookies will spread.
The sugar in the dough also gradually absorbs liquid so when you chill the dough, the sugar has a chance to absorb more liquid further preventing spread. I know chilling is a pain, but I really love what chilling the dough does to cookies. It's like marinating meat — the wait is worth it!
Tips to make these Chewy Sugar Cookies the BEST:
Correctly measure the flour: If you press a measuring cup into a bag of flour you will pack in way too much flour (which will result in cake-like cookies with the wrong texture). To properly measure your flour, spoon the flour into the measuring cup until its overfilled. Then use the back of a butter knife to level the measuring cup at the top. You'll have a perfect flour measurement now!
Use room temperature eggs: This ensures the eggs disperse more evenly into the batter giving these cookies a lighter texture (the eggs trap air). Soaking refrigerated eggs in a bowl of warm (not hot) water for about 10 minutes is a quick way to do this. Otherwise, pull the eggs out of the refrigerator about 30 minutes before use.
Roll tall cookie dough balls: Instead of rolling a perfect ball, I've found if you roll the dough so it's taller and skinnier, when the cookies bake you'll get that perfect thick & chewy center AND the crisp edges. Using this technique, the bottom of the cookie "ball" bakes first, which will push out and become the crisp edge. The top of that tall cookie dough "ball" then becomes the thick and chewy center. Perfect texture every time!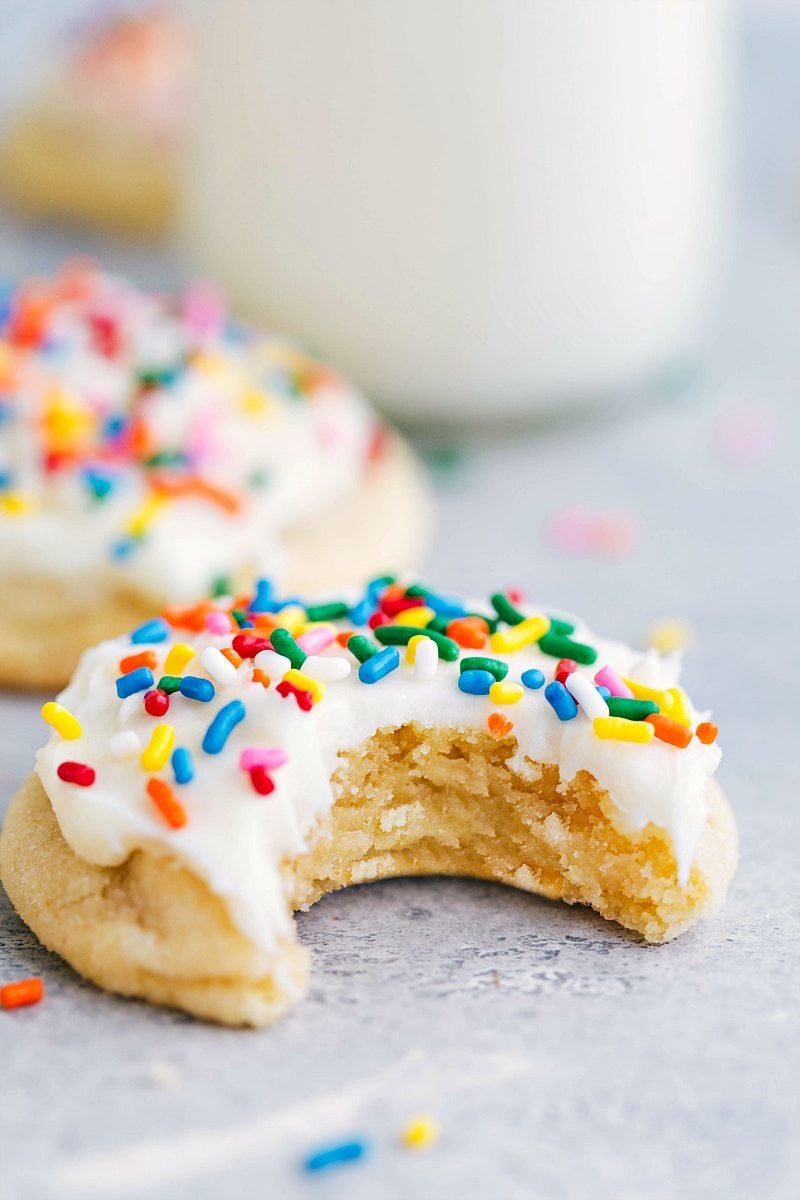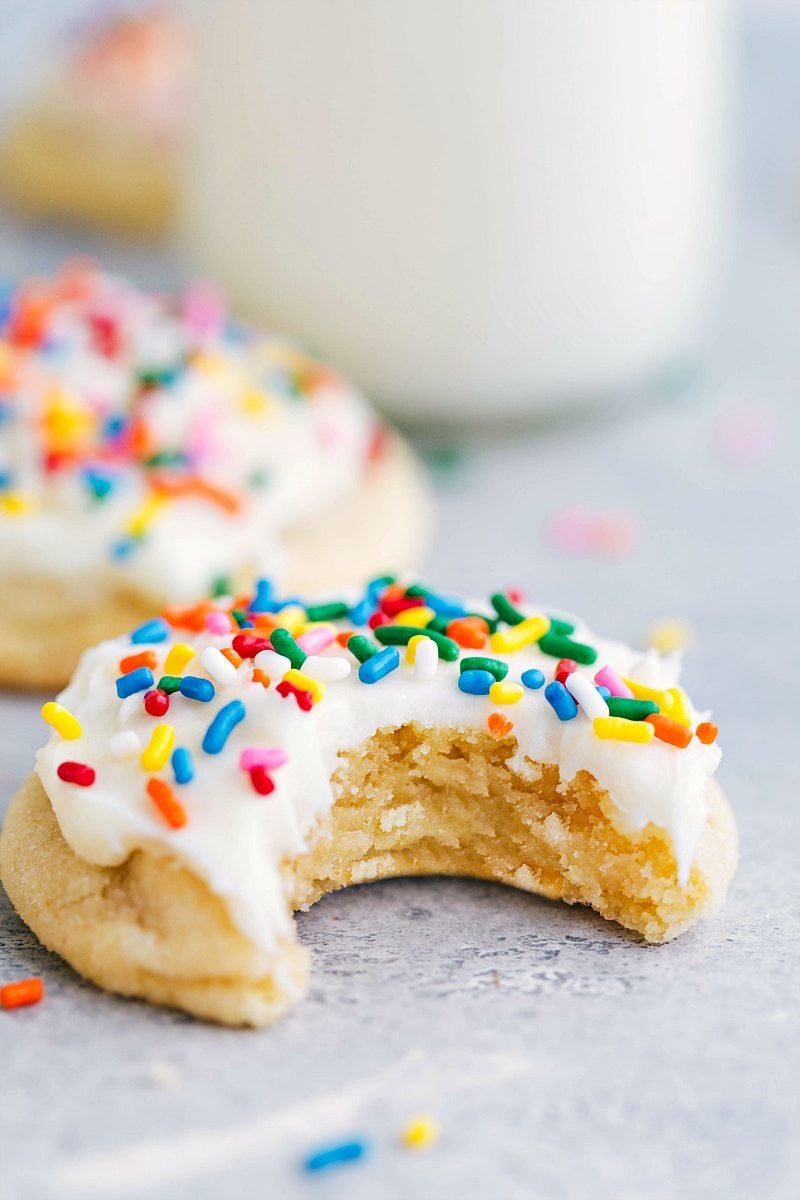 More Delicious Cookies: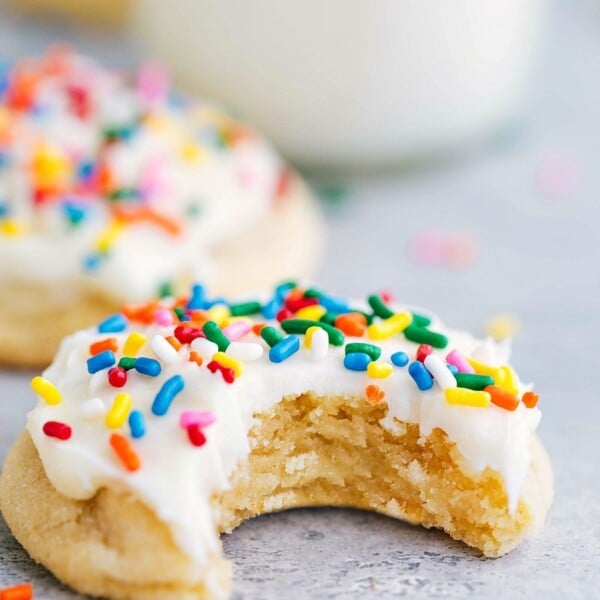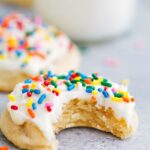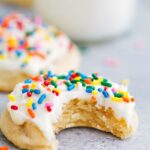 Soft & Chewy Sugar Cookies
Soft and chewy sugar cookies with a cream cheese frosting
Course: Dessert
Cuisine: American
Keyword: chewy sugar cookies
Servings: 28 cookies
Calories: 221 kcal
Author: Chelsea
Ingredients
16

tablespoons

(1 cup) unsalted butter,

80% the way melted

1

cup (232g)

white sugar

1/3

cup (72g)

light brown sugar,

packed

2

large eggs,

separated

1/2

tablespoon

pure vanilla extract

1/2

teaspoon

pure almond extract

2 and 3/4

cups (331g)

all-purpose white flour

1/2

teaspoon

fine sea salt

1

teaspoon

baking soda
Optional Sugar Coating
1/4

cup (49g)

white sugar

1/4

cup (50g)

coarse white sugar crystals
Cream Cheese Frosting
8

ounces

full fat cream cheese,

at room temperature

1/2

cup

unsalted butter,

at room temperature

1/2

teaspoon

vanilla bean paste (or use 1 teaspoon pure vanilla extract)

1/8

teaspoon

fine sea salt

3-1/2

cups (385g)

powdered sugar

Rainbow Sprinkles!
Instructions
In a large bowl add the 80% melted butter, sugar, and brown sugar. Whisk together until smooth. Add in 1 whole egg and 1 egg yolk (reserve the whites for a separate recipe or discard), vanilla extract, and almond extract. Whisk until just combined and smooth.

In another bowl, stir together the flour, salt, and baking soda. 

Add all of the dry ingredients into the wet ingredients and mix until JUST combined. Do not overmix the dough. Cover tightly and place in the fridge for 45 minutes to 1 hour.

Preheat the oven to 325 degrees F. (If you have a convection oven, do 325 degrees F at convection bake). In a small bowl stir together the white sugar and coarse white sugar crystals (optional but makes for a delicious cookie!).

Remove the dough and roll tall balls of dough (see the 2nd photo in the post). If you have a kitchen scale, the balls of dough should be about 1.2 ounces if not each ball should be 2 tablespoons. Roll the balls of dough generously into the coarse white sugar crystal mixture. Place the balls of dough in the freezer for 5-10 minutes to firm up again (keeps them from spreading too much; you want the dough going into the oven as cold as possible.)

Place dough balls on a parchment or silpat lined sheet pan and bake for 9-11 minutes. Watch carefully being sure to not over-bake. Slightly under-baked sugar cookies are the BEST! Remove and let stand on cookie sheet for 2 minutes before removing to a cooling rack.

Meanwhile prepare the frosting. In a large bowl, beat together the room temperature butter and cream cheese until completely smooth. Add in the vanilla and salt. Beat to combine. Add in the powdered sugar and then beat until the frosting is smooth (it will seem like you need more liquid, but just keep beating, it will come together!)

Frost each cooled cookie with frosting and add with your favorite sprinkles. Enjoy! Store any leftover cookies in an airtight container in the fridge.
Recipe Notes
Total time does not include mandatory chilling time.