Pomegranate & Wild Rice Salad


Special thanks to POM Wonderful for sponsoring this post. As always, all opinions are my own.
Mixed greens with wild rice tossed in a simple lemon honey vinaigrette topped with roasted sweet potato, pomegranate arils, toasted almonds, and goat or feta cheese
This wild rice salad would be delicious served alongside these roasted vegetables (or just roasted brussel sprouts), mashed potatoes, and this turkey breast in crock pot.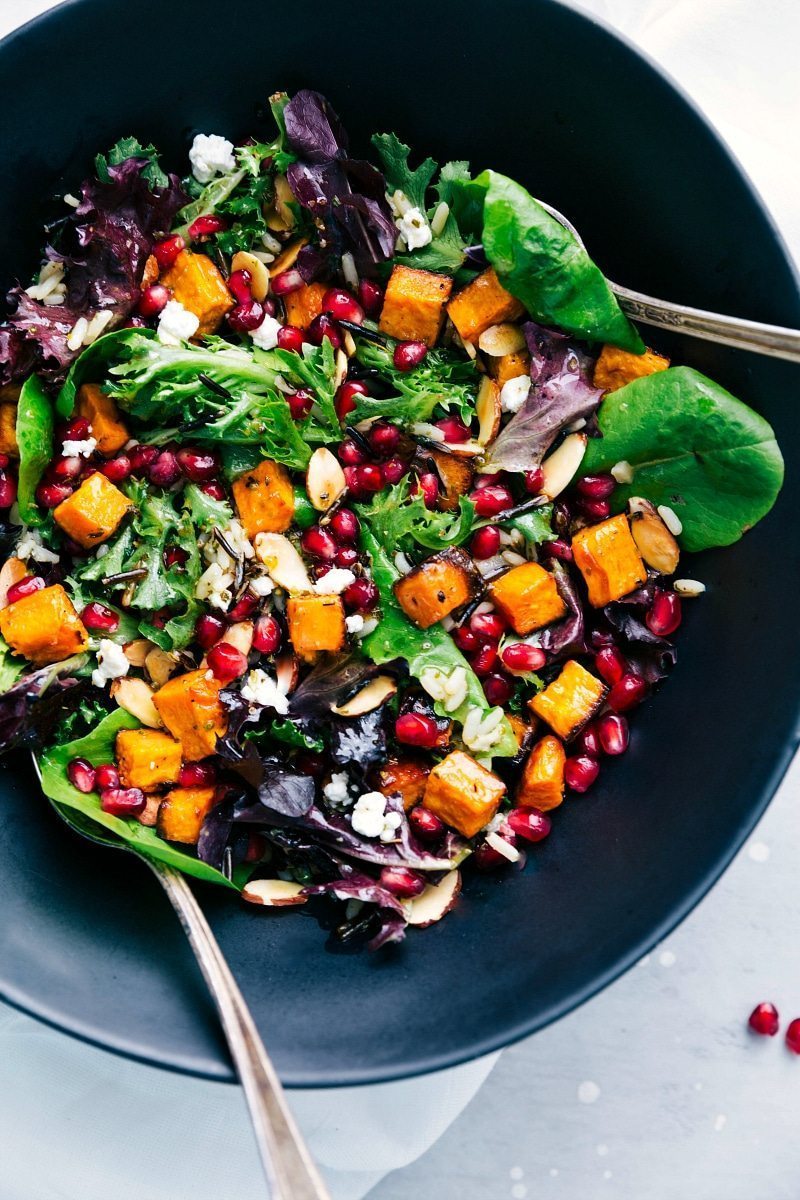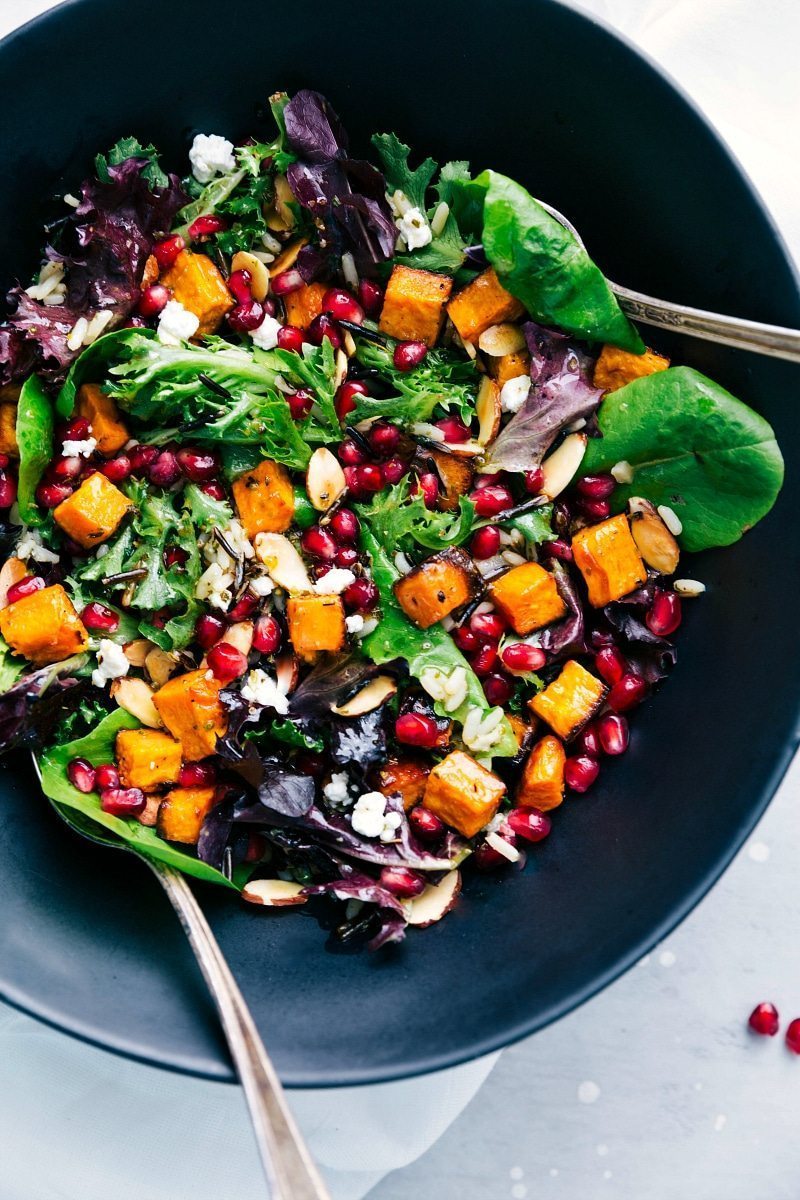 Wild Rice Salad
Growing up there were 9 people in my family and we went through food in our home QUICKLY. There were 4 foods (that I know of) my mom loved so much that she would actually hide them from us to ensure she'd get some before the locusts of kids descended on it. Those four foods? Strawberry granola cereal, caramel chocolate candies, plain milk chocolate, and pomegranates.

So growing up those were obviously the most desired foods in the home. If you could catch her eating the hidden food, she'd share, but they were never in plain sight for us to get. As I've grown up I've clearly never gotten over the "magic" of those foods because all four are in stock at my home as often as possible. The cereal and chocolate are always in my pantry and the minute pomegranates are in season, they fill up my fridge! …Which also means they make it on a how lot of recipes here…you can thank my mom for that 😉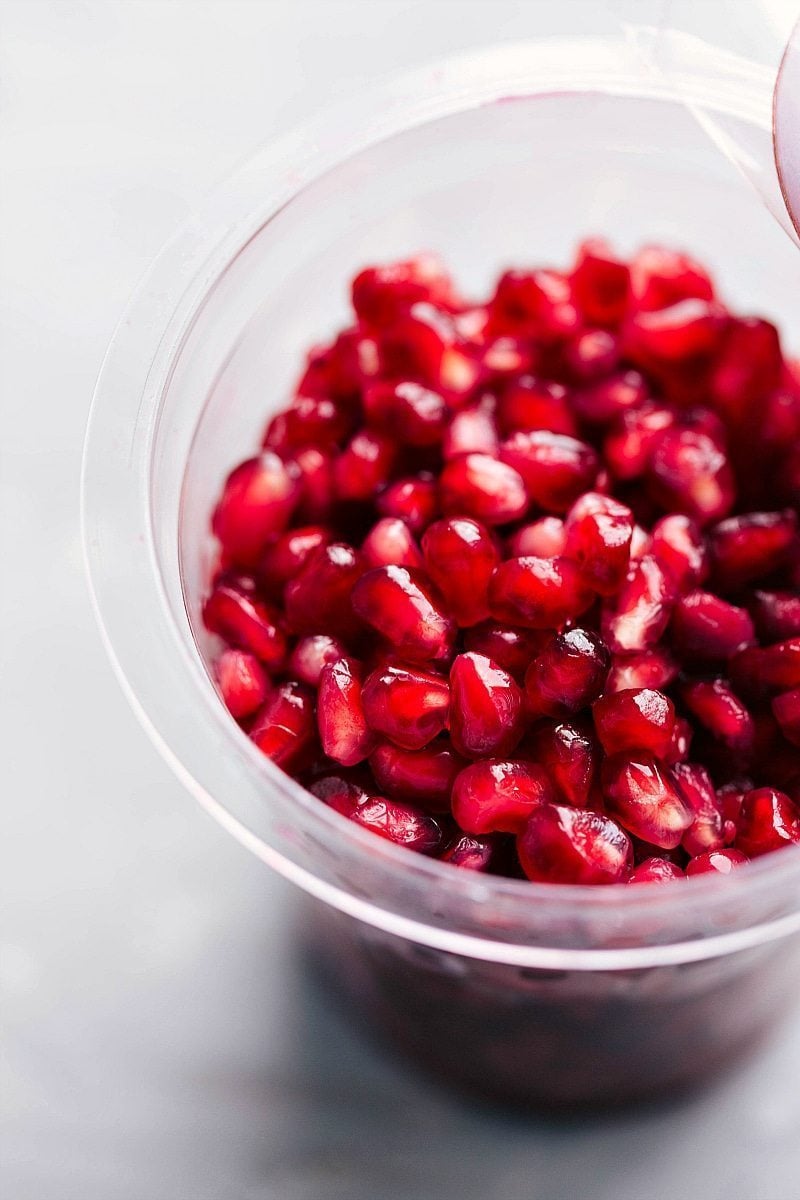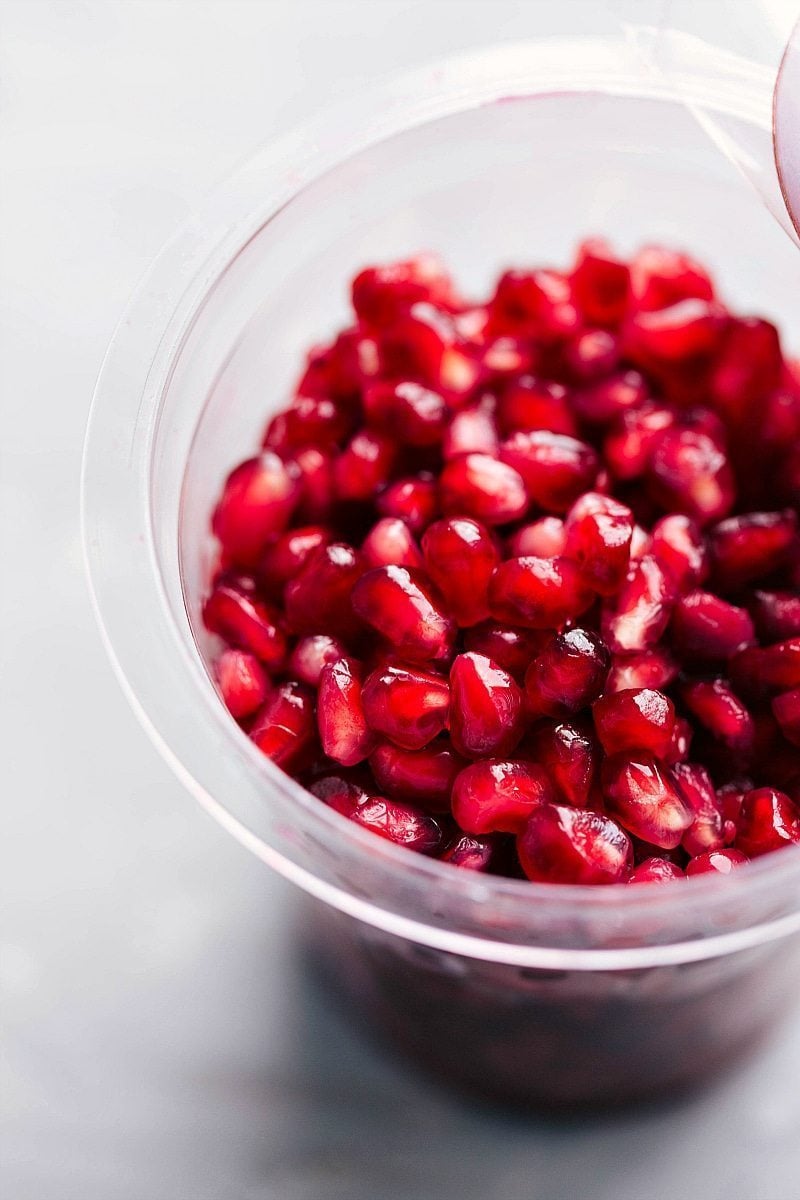 This wild rice salad is bursting with flavor and texture, and it's hearty too – the perfect everyday Fall recipe. The lettuce, wild rice, and sweet potatoes form the base to this salad. Those three ingredients together really make this salad a filling meal. The toasted almonds add a nice crunch and the goat cheese adds a tang and "creaminess."
But my favorite part of this salad? The sweet burst of flavor that comes from the pomegranate arils. The POM POMS pomegranate arils add just the thing to take this salad from great to AMAZING.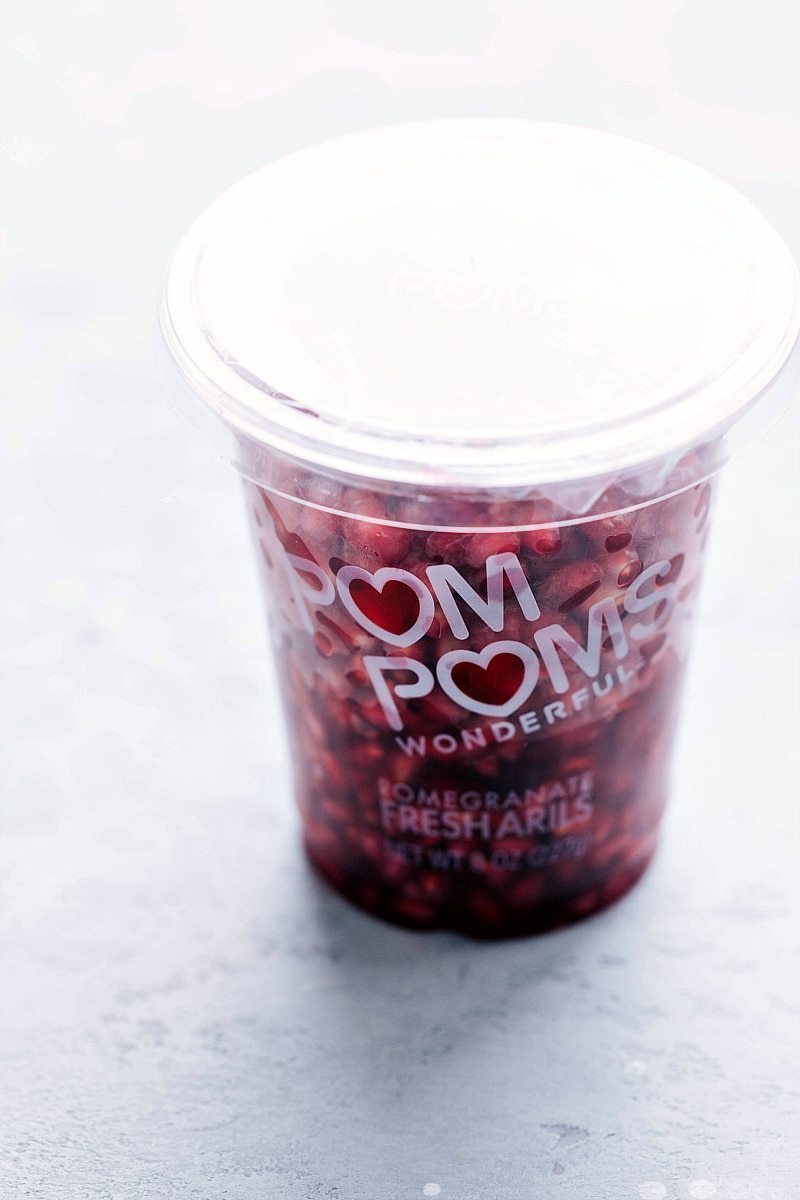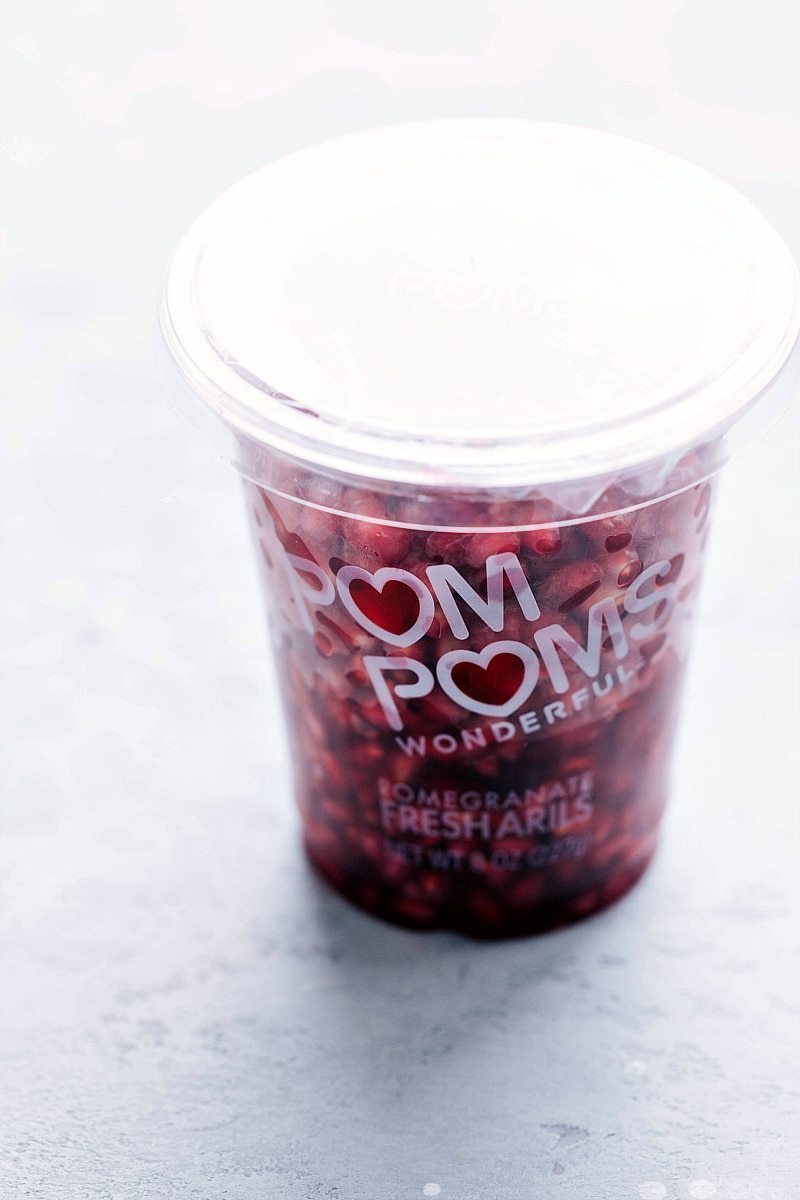 In case you're unfamiliar, POM Wonderful makes POM POMS which are a convenient package of ready-to-eat pomegranate arils straight from their California orchards. POM Wonderful makes enjoying pomegranates and healthy snacking easier than ever! Besides how delicious and sweet pomegranate arils are, they also are known for their unique antioxidants and fiber. Pairing the health benefits of the pomegranate arils with all the other healthy ingredients in this wild rice salad, this is a powerhouse salad you can feel good about eating.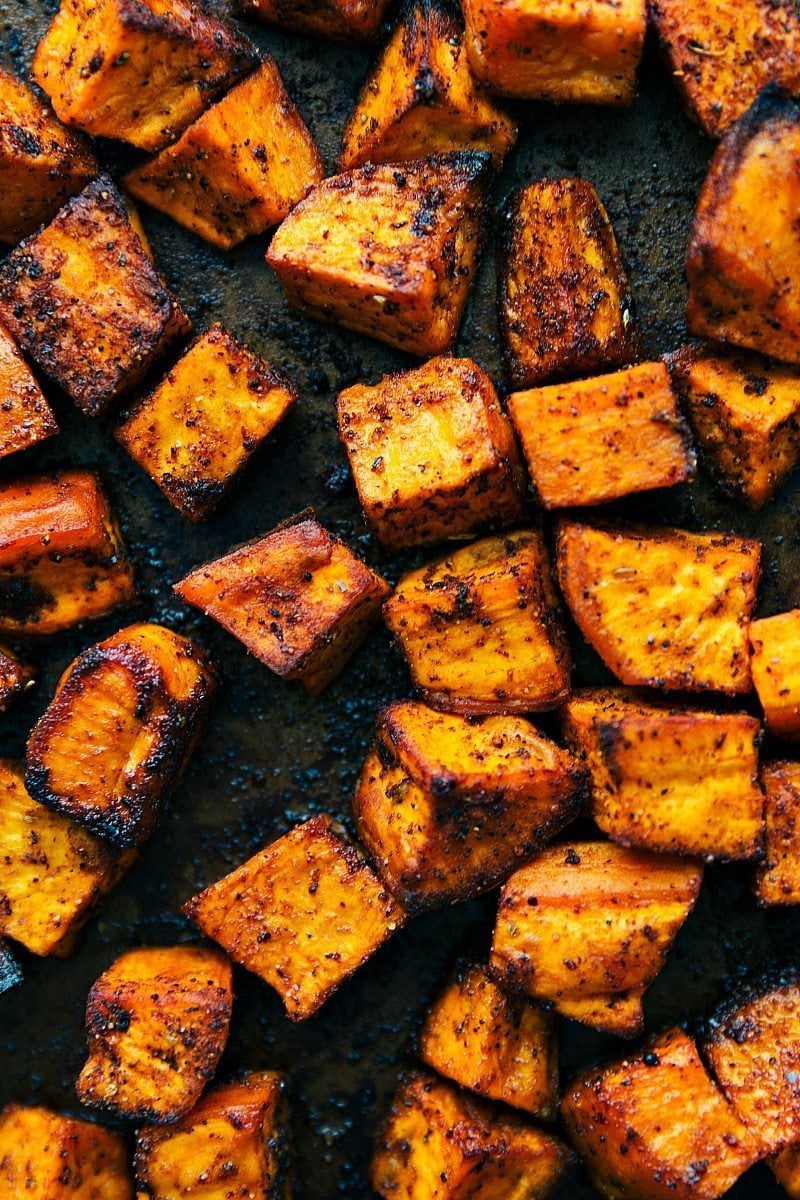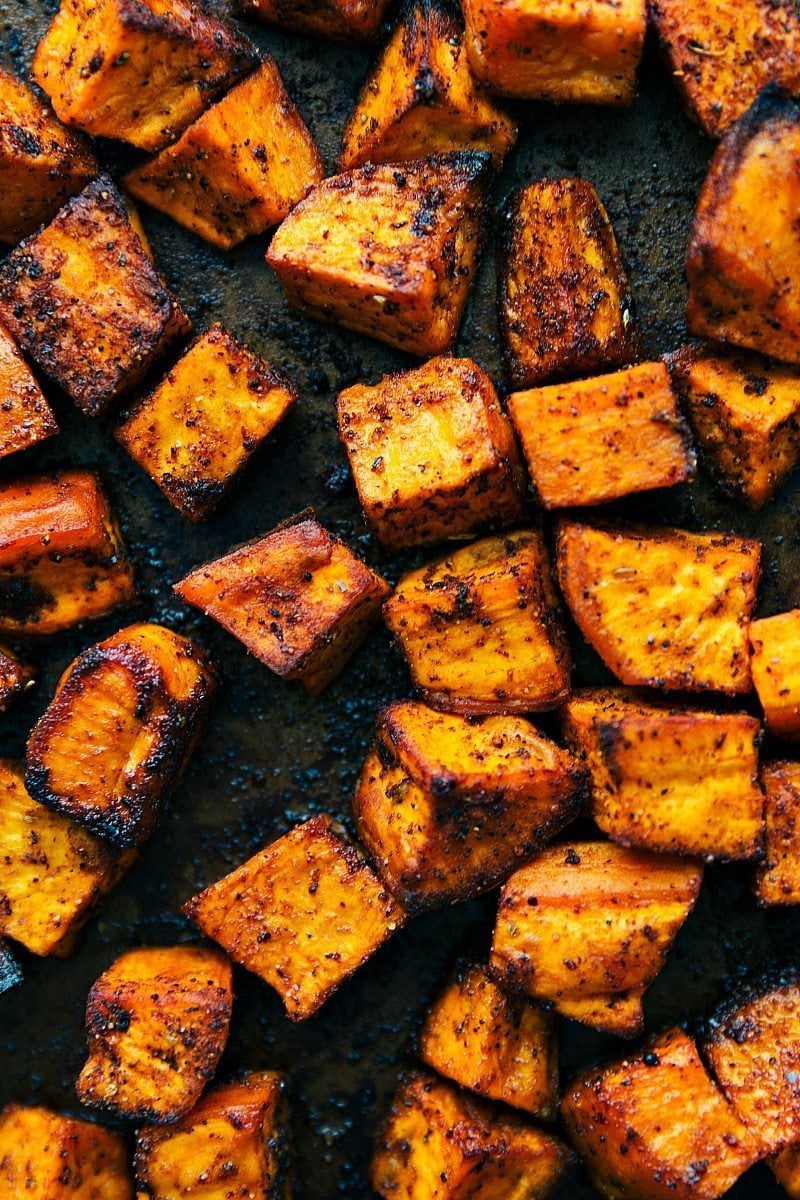 To make this wild rice salad easier to make (and overall a faster prep time), I use packaged seasoned wild rice. That way, you can prep all of the other components of this salad in about 20-25 minutes and by that time the rice is cooked perfectly.
If you want to make your own homemade seasoned wild rice mix, here's how you do that:
Ingredients:
2/3 cup wild rice (or 1/3 cup wild rice and 1/3 cup parboiled long white rice. It has to be the parboiled long white rice to cook evenly with the wild rice).

1 tablespoon unsalted butter

1 and 2/3rds cup chicken broth

1/2 teaspoon salt

1/2 teaspoon dried parsley

1/4 teaspoon freshly cracked pepper

1/4 teaspoon EACH: oregano, thyme, garlic powder, onion powder

1 teaspoon white sugar
Instructions:
In a fine mesh sieve, thoroughly rinse the wild rice.

Combine all of the ingredients in a pot over high heat. Bring to a boil and then reduce the heat to a low simmer (few notches above lowest temperature).

Cover the pot.

Cook for about 45 minutes and then check. If tender, stop cooking and if not cook for another 10-15 minutes or until it is tender. Add additional broth if needed.

When the rice is cooked through, drain off any additional liquid and fluff it with a fork.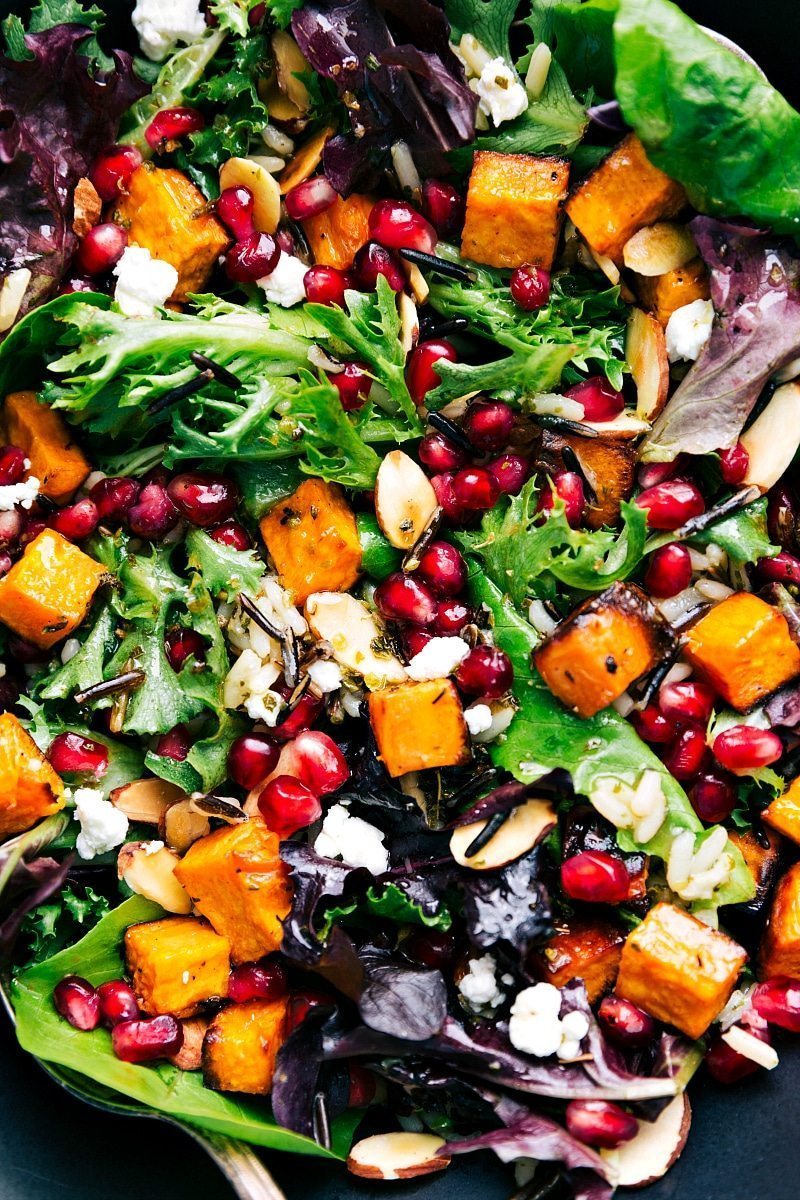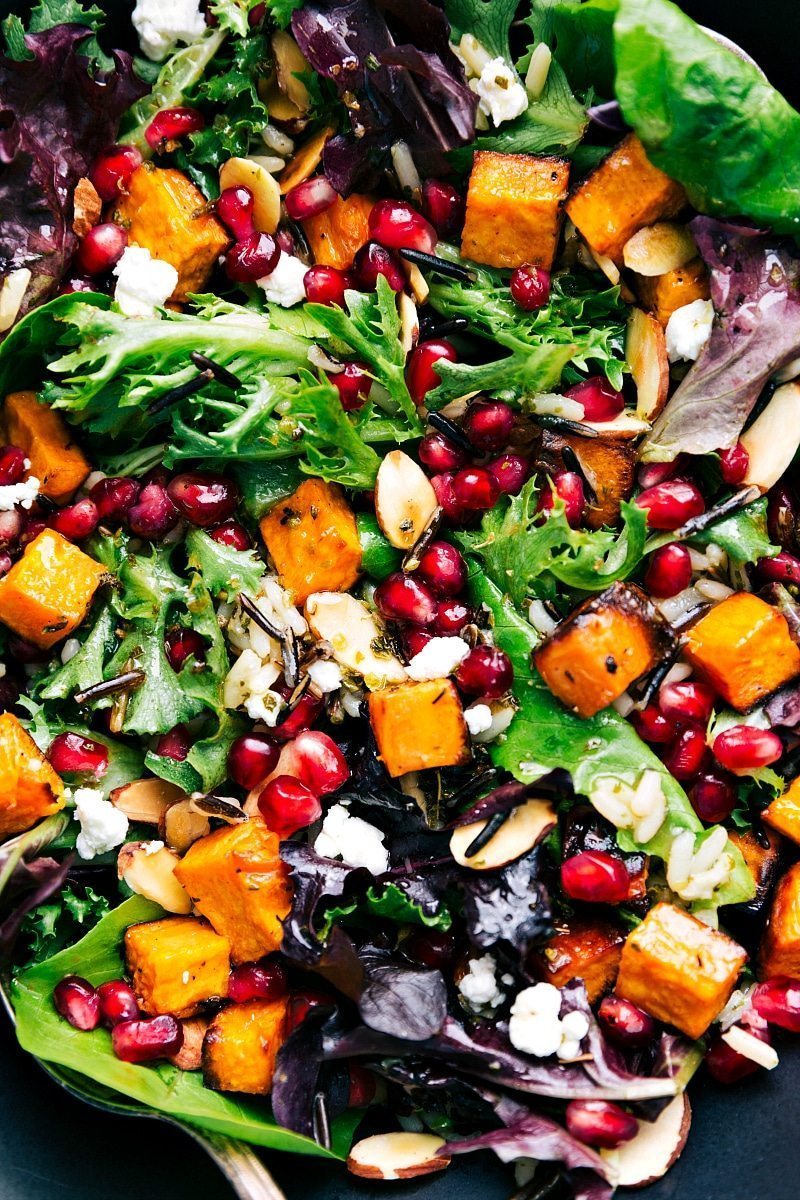 And finally, let's talk about the dressing! The dressing is so simple and doesn't require many ingredients; most of which you probably already have. Everything gets combined in a mason jar (or a small bowl) and shaken (or whisked) together.
The dressing recipe makes the perfect amount of dressing for me, but like a lot of dressing on your salads, be sure to double the amount. This wild rice salad doesn't store well after being dressed, but if you store everything separately from the dressing it keeps well for a few days.
This pomegranate and wild rice salad is like Fall in a bowl, and I am sure this is one of the main reasons why I love Fall-time so much. Enjoy 🙂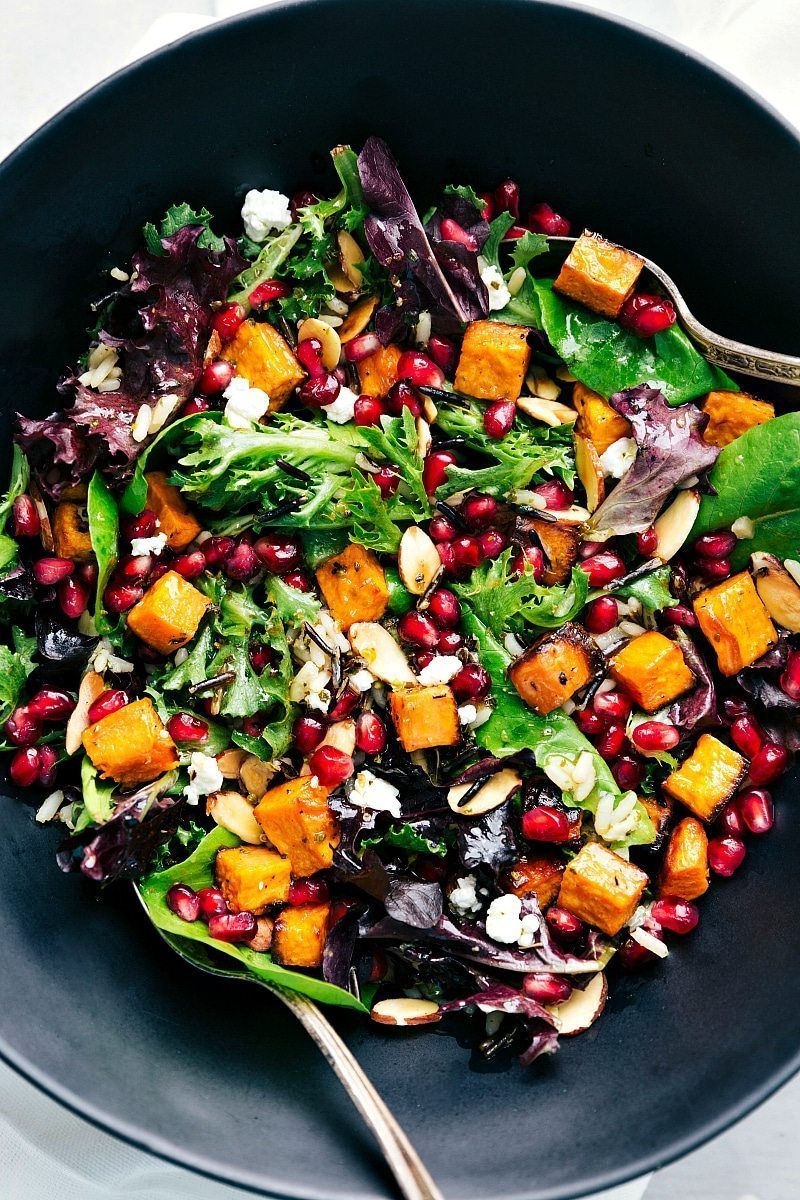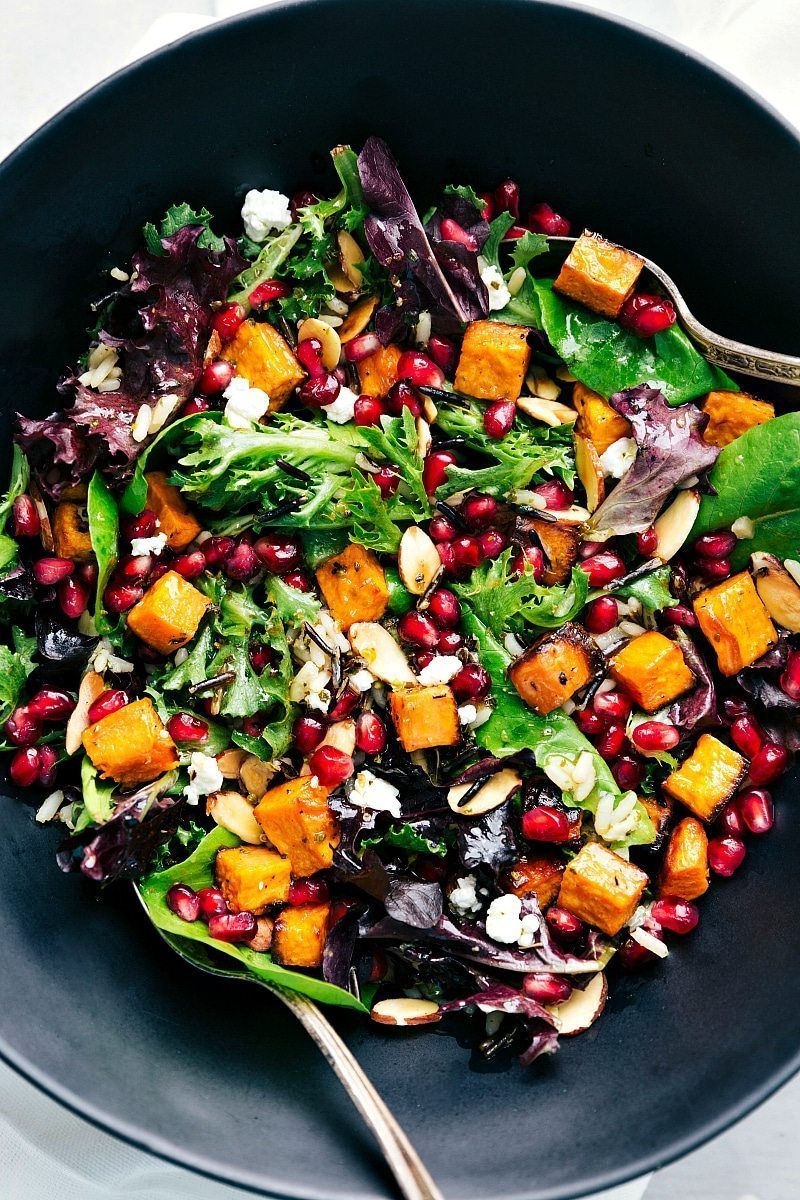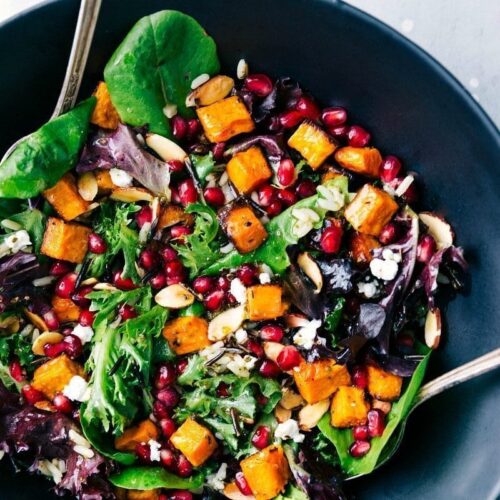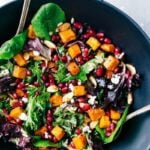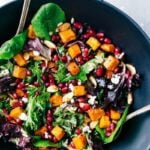 Pomegranate and Wild Rice Salad
Mixed greens with wild rice tossed in a simple lemon honey vinaigrette topped with roasted sweet potato, pomegranate arils, toasted almonds, and goat or feta cheese. This pomegranate and wild rice salad is simple to make and bursting with fresh & delicious Fall flavors.
Course: Salad
Cuisine: American, Healthy
Keyword: wild rice salad
Servings: 6 servings
Calories: 306 kcal
Ingredients
2-3

medium (~2 and 1/2 cups)

sweet potatoes,

peeled and chopped

1 and 1/2

tablespoon

olive oil

Freshly cracked pepper and salt

1

package (4.3 ounces)

Long Grain and Wild Rice Mix

(or see homemade version in the blog post above)

1

cup

POM POMS Pomegranate Fresh Arils

1/2

cup

sliced almonds

8-10

ounces

mixed greens lettuce I use a 50/50 blend spinach & spring mix leaves

2-4

ounces

Crumbled goat cheese or feta

(add to preference)
Lemon Honey Dressing
1

tablespoon

honey

1

large

lemon

(2 tablespoons juice, 1/4 teaspoon zest)

3/4

tablespoon

red wine vinegar

2

tablespoons

olive oil

1/2

teaspoon

Dijon mustard

1/2

teaspoon

dried oregano

Freshly cracked pepper and salt,

to taste
Instructions
Preheat the oven to 400 degrees F. Peel and chop the sweet potato into small chunks. Toss the potato chunks in olive oil and sprinkle generously with salt and pepper. Toss to coat.

Bake for 10 minutes, flip and return to the oven for another 10 minutes, and then flip once more and bake for 10 more minutes or until the potato chunks are tender and roasted through. Watch these carefully so you don't overcook the potatoes.

Meanwhile, prepare the wild rice either according to the package directions if you are using a package mix OR according to the directions in the recipe included in the blog post (for a homemade version of seasoned wild rice). If you make the homemade wild rice, start with making that before roasting the sweet potato so they will be done around the same time.

Combine the roasted sweet potato with the cooked wild rice in a large bowl and place in the fridge while prepping the dressing.

For the dressing combine all of the ingredients in a mason jar of small bowl. Place the lid on the mason jar and shake (or whisk in the bowl) until combined. Taste and adjust (additional salt/pepper/honey)

Add to the cooled potato + wild rice mixture. Toss with the lettuce and add the pomegranate arils plus almonds (you can toast almonds if desired by placing them in a dry skillet over medium heat and stirring until lightly fragrant watching carefully to not burn them.)

Toss everything with the dressing and add in some feta or crumbled goat cheese to personal preference. Increase the amounts of pomegranate arils or almonds if desired.

Once dressed enjoy the salad the same day. If not finishing the salad in one day, store the salad separately from the dressing, almonds, and cheese.
Recipe Video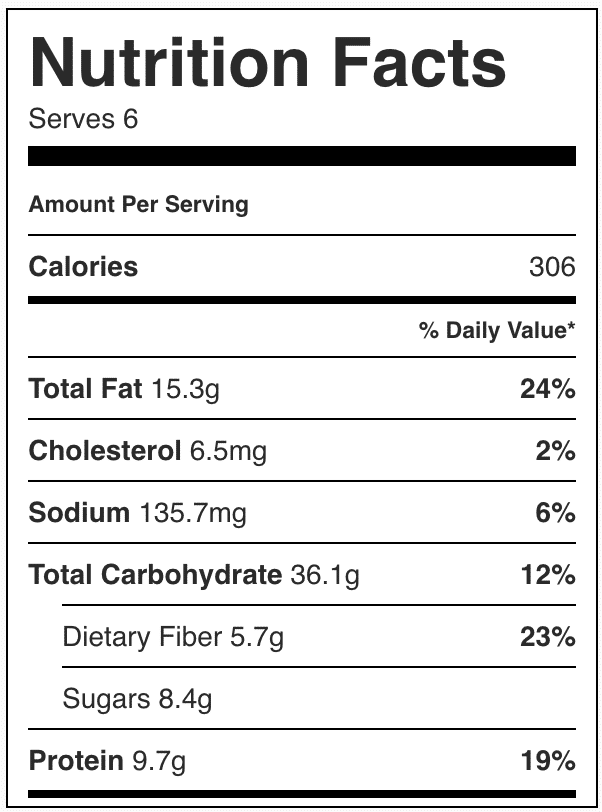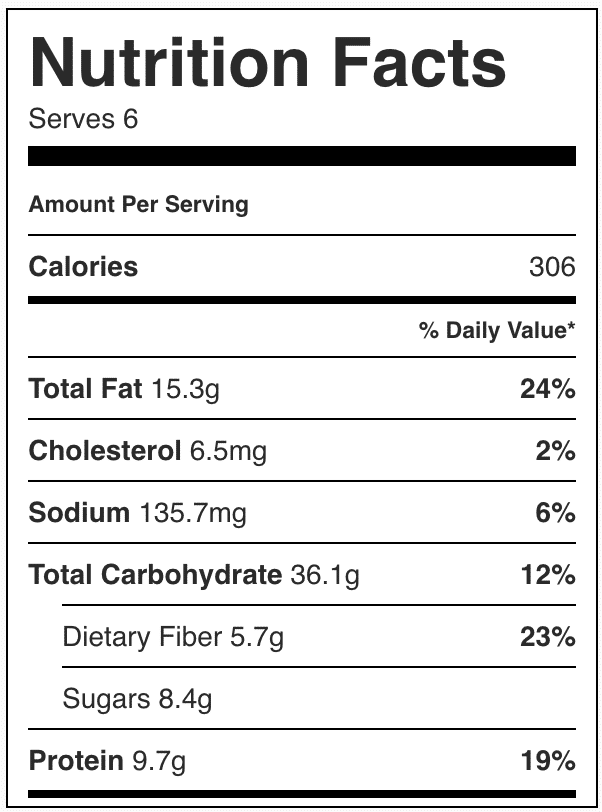 More Delicious Fall Salads:
Roasted Sweet Potato Quinoa Salad