Mexican Potato, Corn, & Bacon Chowder


A simple stovetop potato, corn, and bacon chowder with Mexican spices and flavors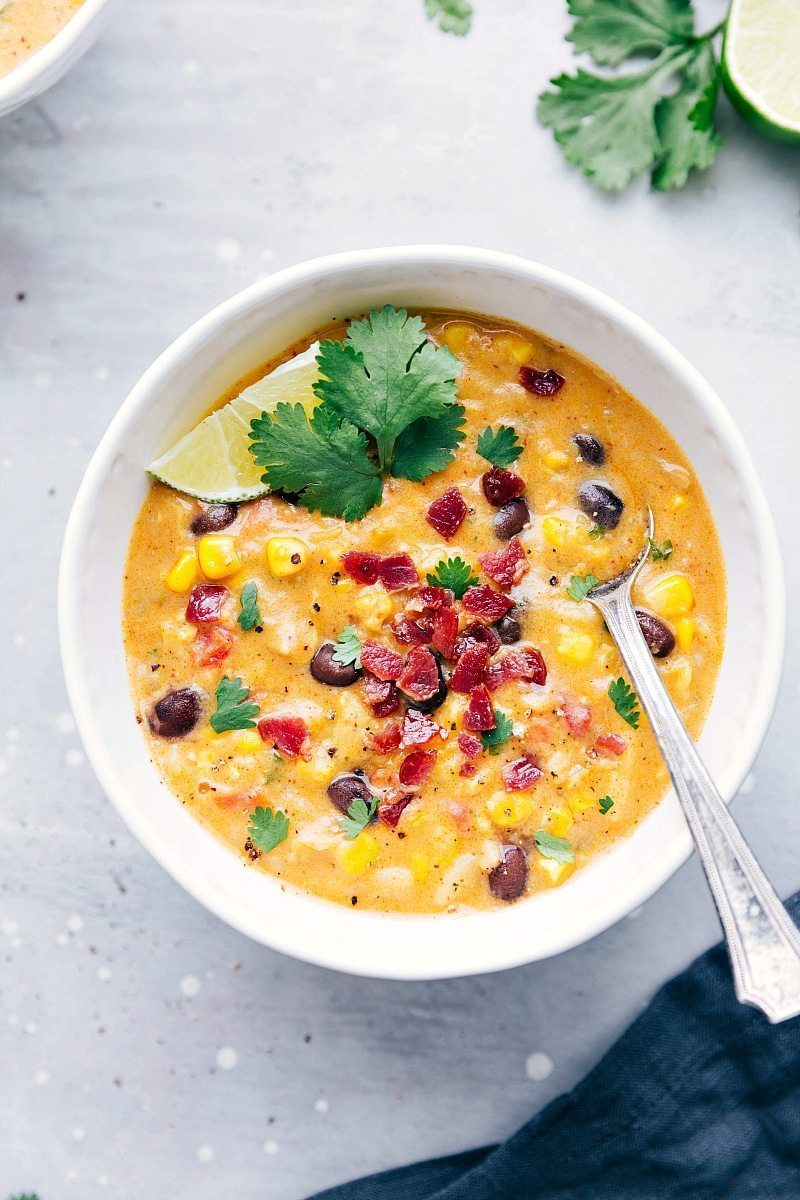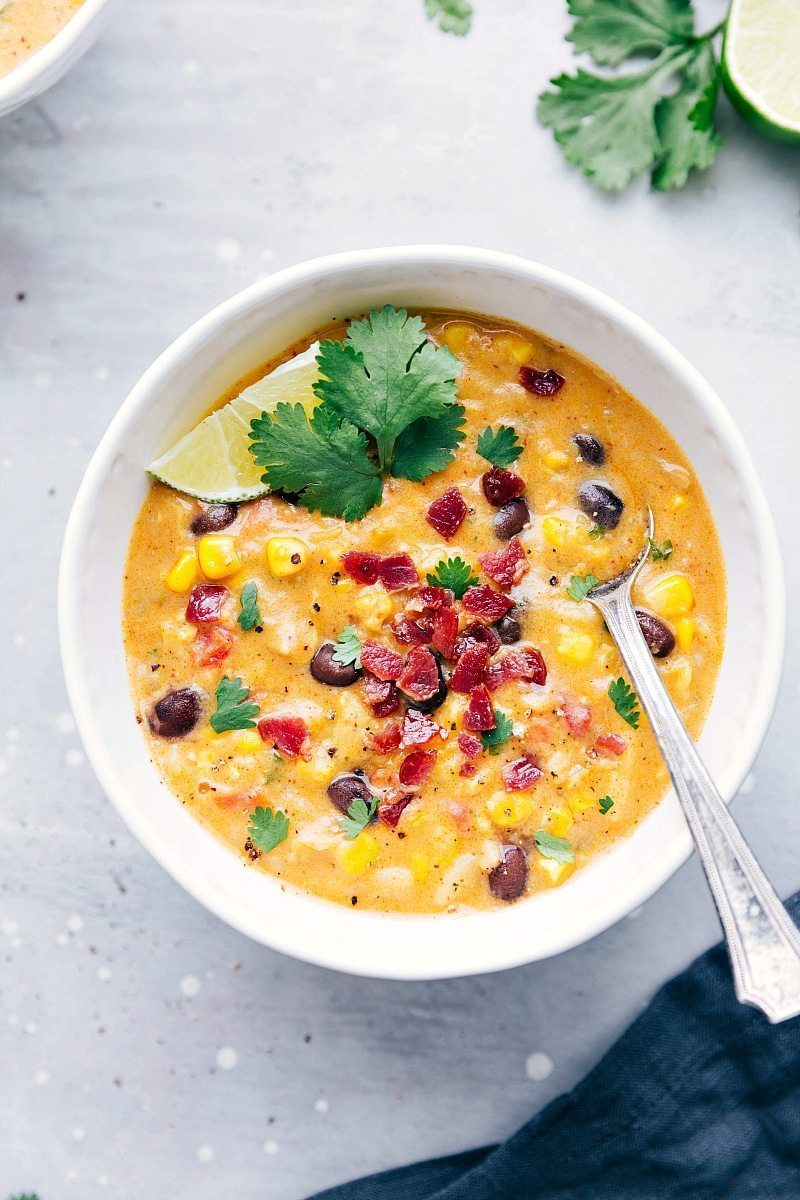 I'm becoming convinced that my family is cursed when it comes to taking family pictures. The last four years we've set dates for family photos, it has always ended up being freezing cold and every single year there has been snow.
Granted, I've never planned a shoot for the summer (I love Fall colors) but each year I've picked a date earlier than the last, and each year we have that one random freezing day which lands right on photo day.
We got our family photos taken a couple of weeks ago and that particular day ended up being the coldest day yet this season (and we even got a little bit of snow where we were at). I thought the end of September was playing it safe for weather AND Fall colors, but apparently not.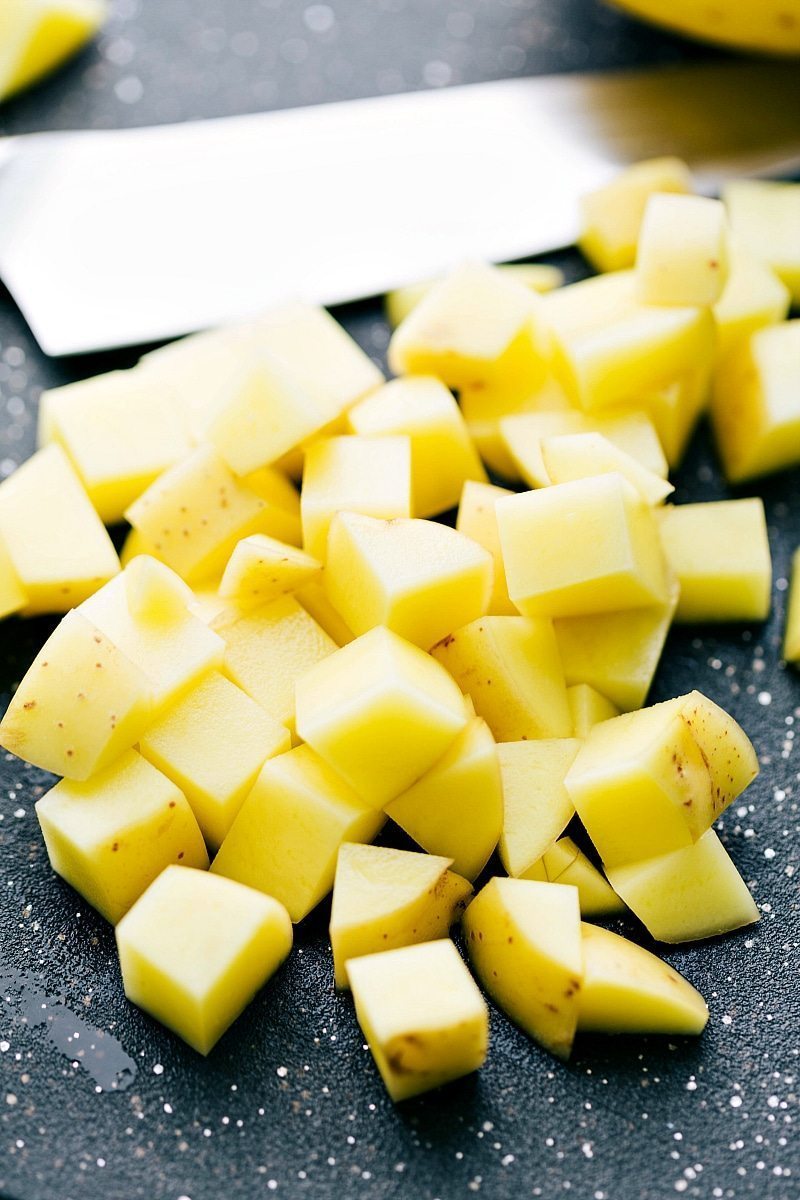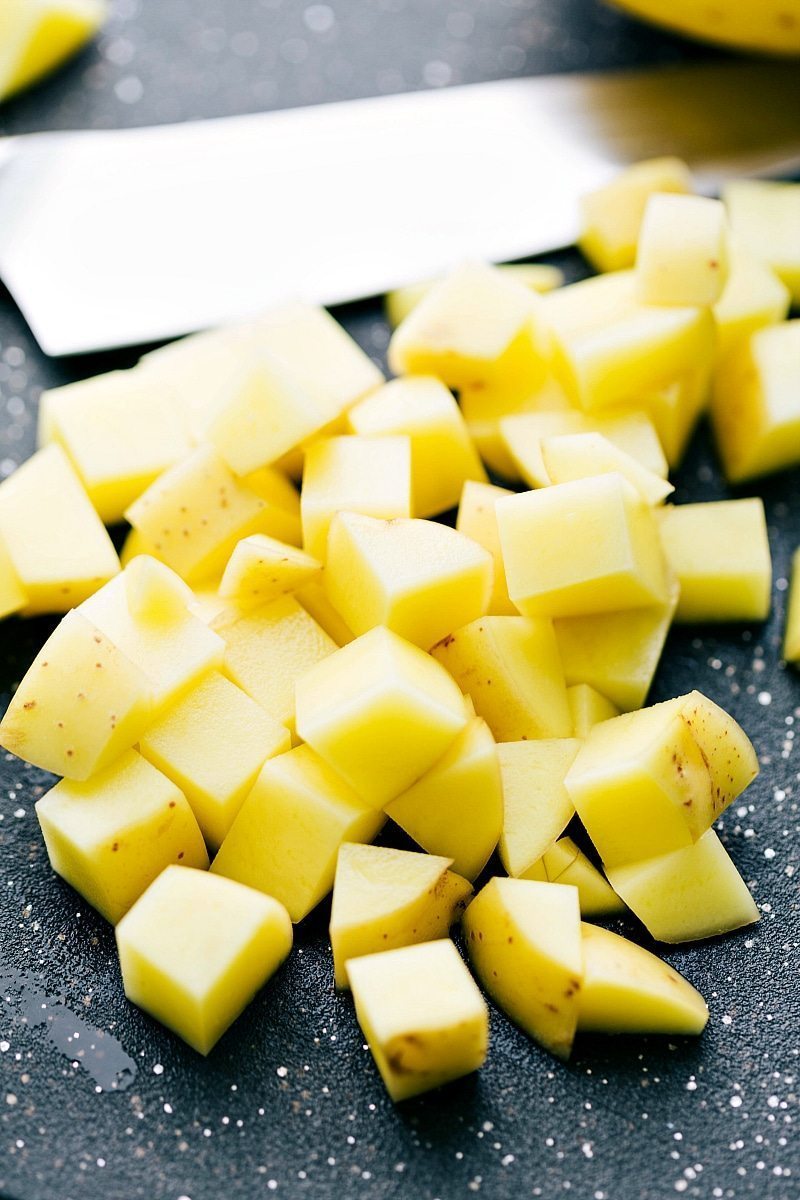 The boys were less than cooperative, but you couldn't blame them in that weather. Near the end, the only thing that was (somewhat) helping was our promised bribes of going out to dinner together (and luckily our photographer had smarties which definitely saved some photos).
As we finished up photos and got in the car, we blasted the heat and headed straight for one of the boy's favorite places to eat. And of course, we all just wanted soup!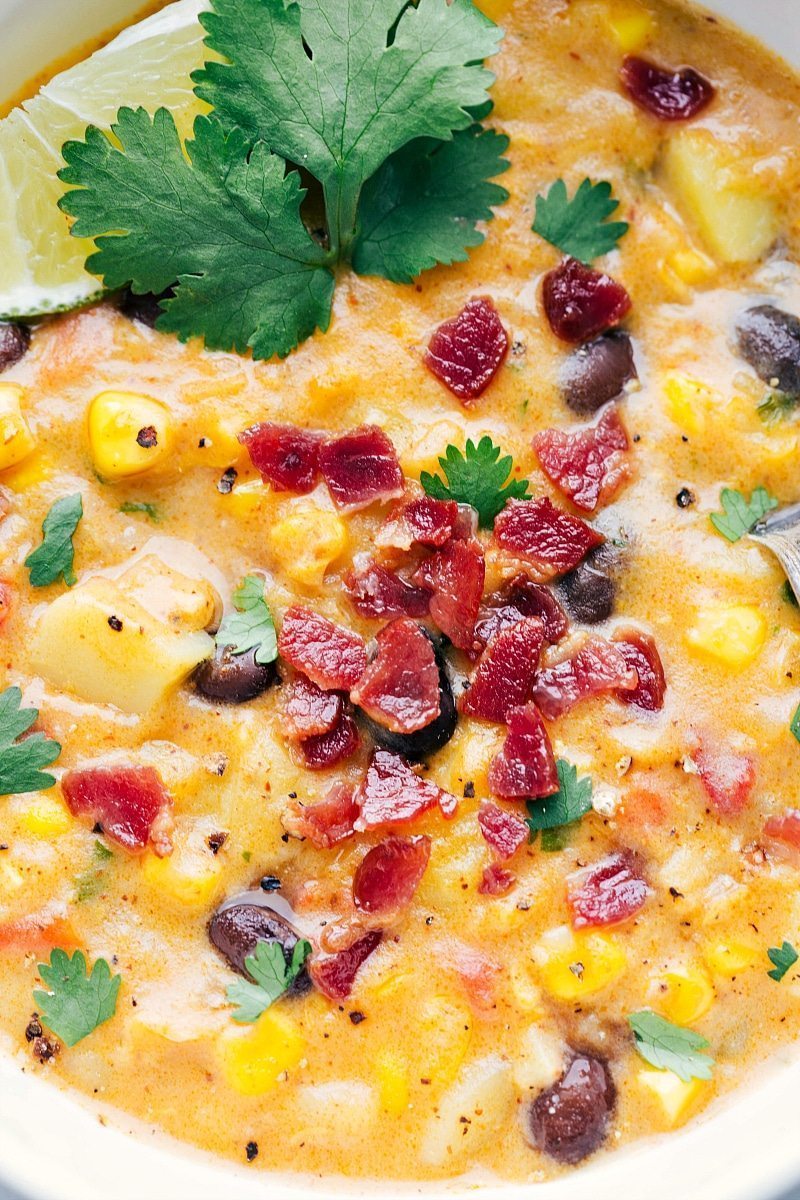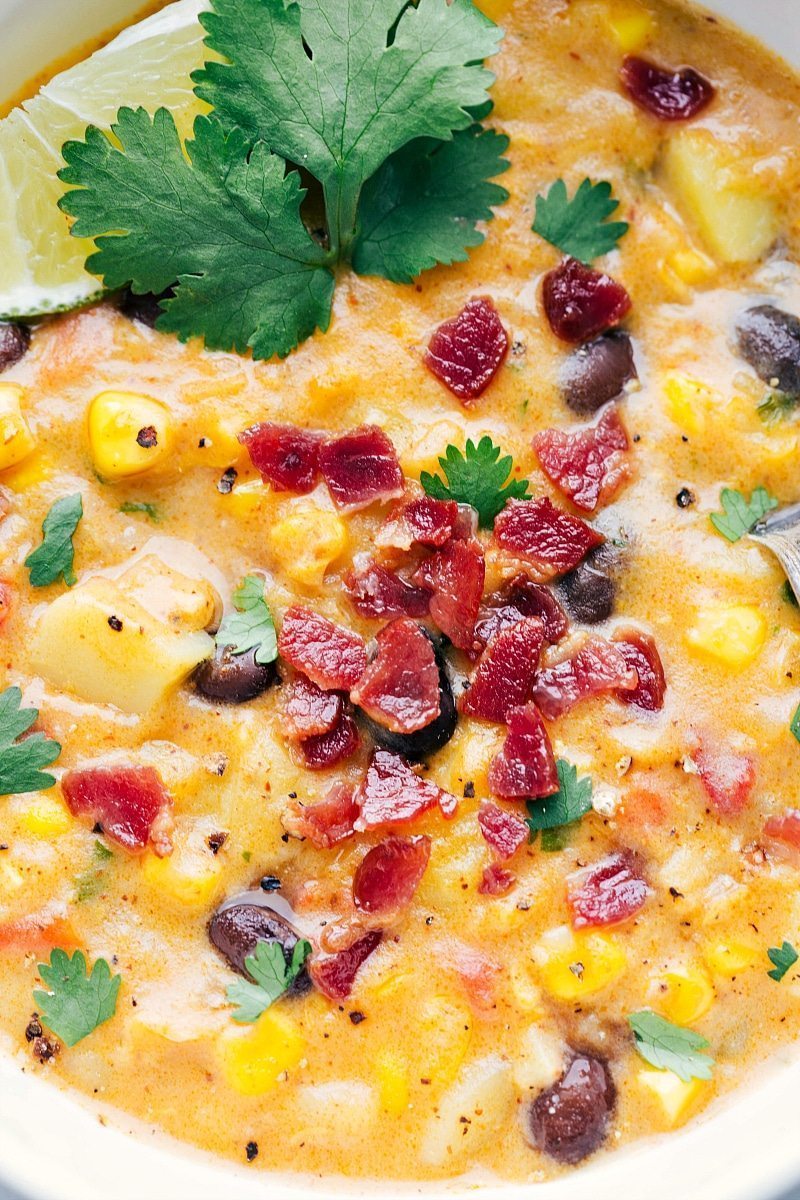 And so the vision for this chowder began: it is inspired by a limited-time chili at Zupas (a copycat of their chicken enchilada chili here).
Through September and part of October they served a Southwest Potato & Green Chili which was amazing. This isn't really a copycat of that soup since it ended up pretty different, but it all started thanks to that delicious soup. So while we may or may not ever have successful (not freezing weather) family photo shoots, at least there is the consolation prize of knowing we can always make this amazing chowder afterwards. There is nothing like a hot hearty bowl of soup after being completely chilled to the bone!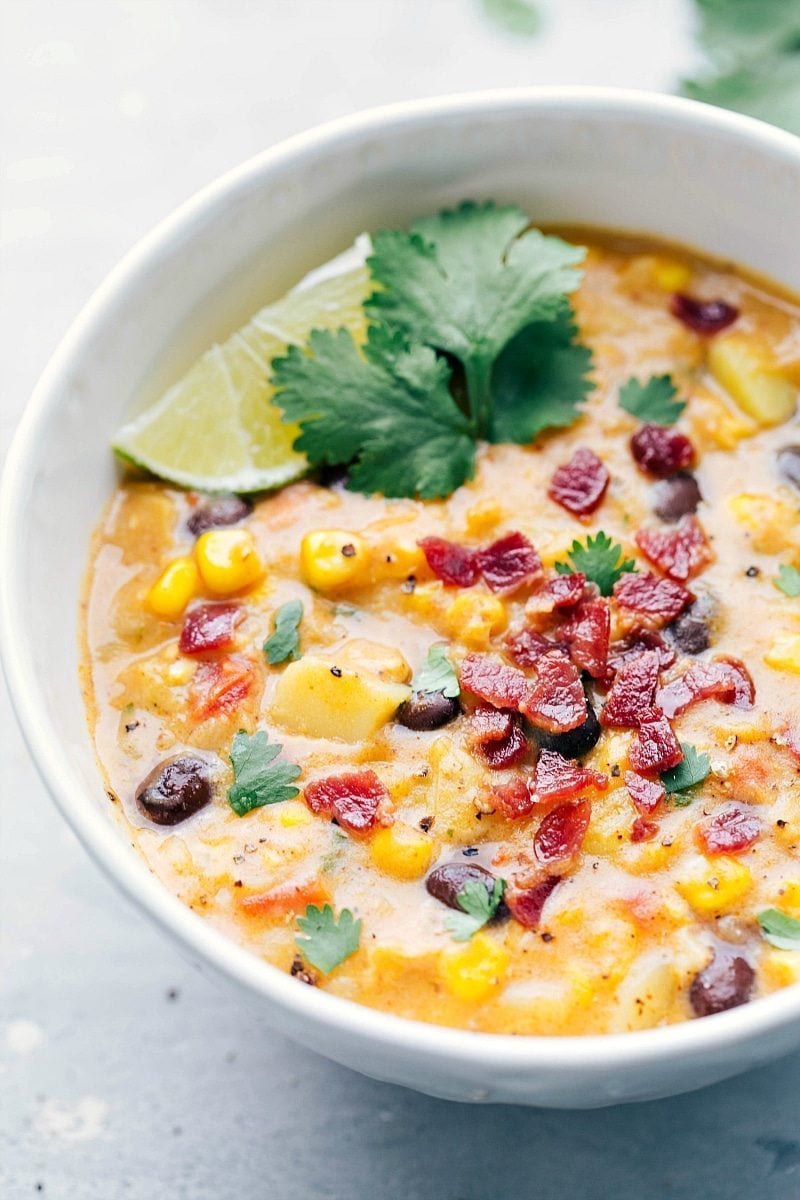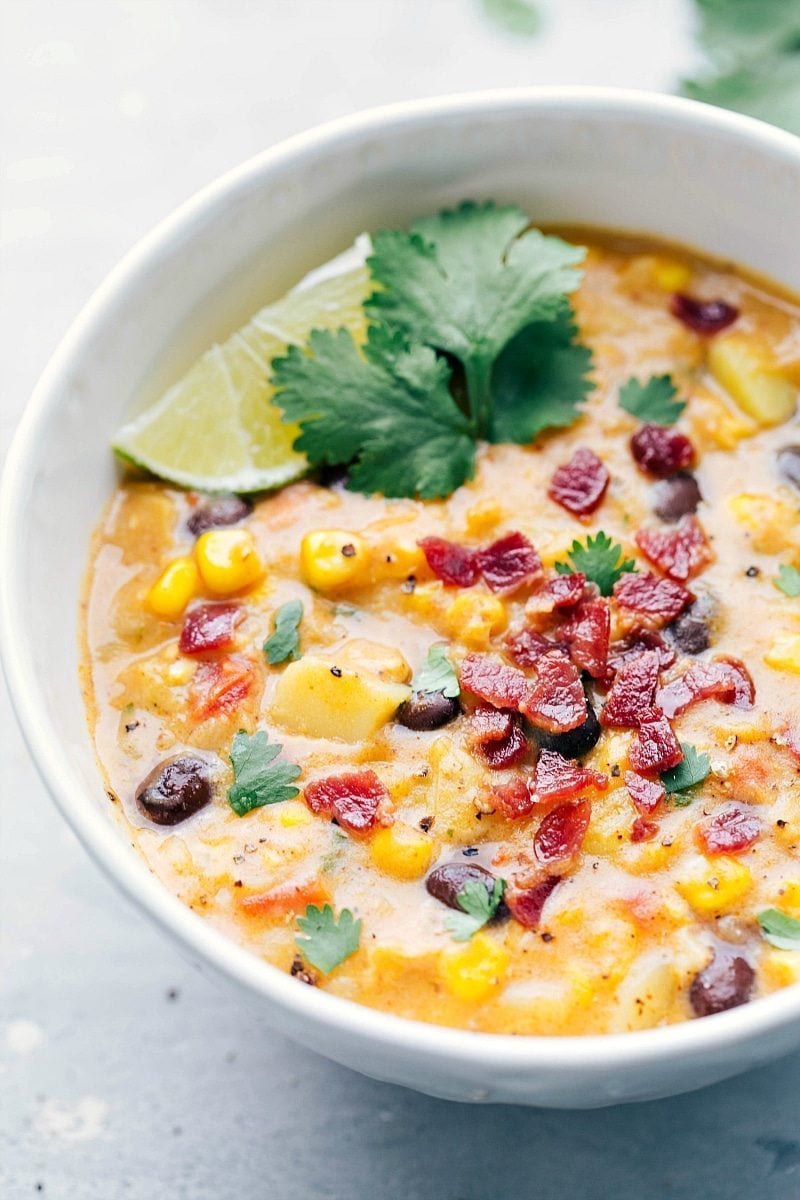 This chowder is more of a loaded potato chowder with a few Mexican flavor-inspired twists. Those twists being some spices (cumin, chili powder, paprika) and extra corn in the base. I also added in some black beans and green chiles to really amp up the Mexican flavors.
As much as we loved that soup at Zupas, everyone agreed this one is even better! This chowder is loaded with flavor, the texture & consistency is perfect, and overall, it's perfect cold weather comfort food.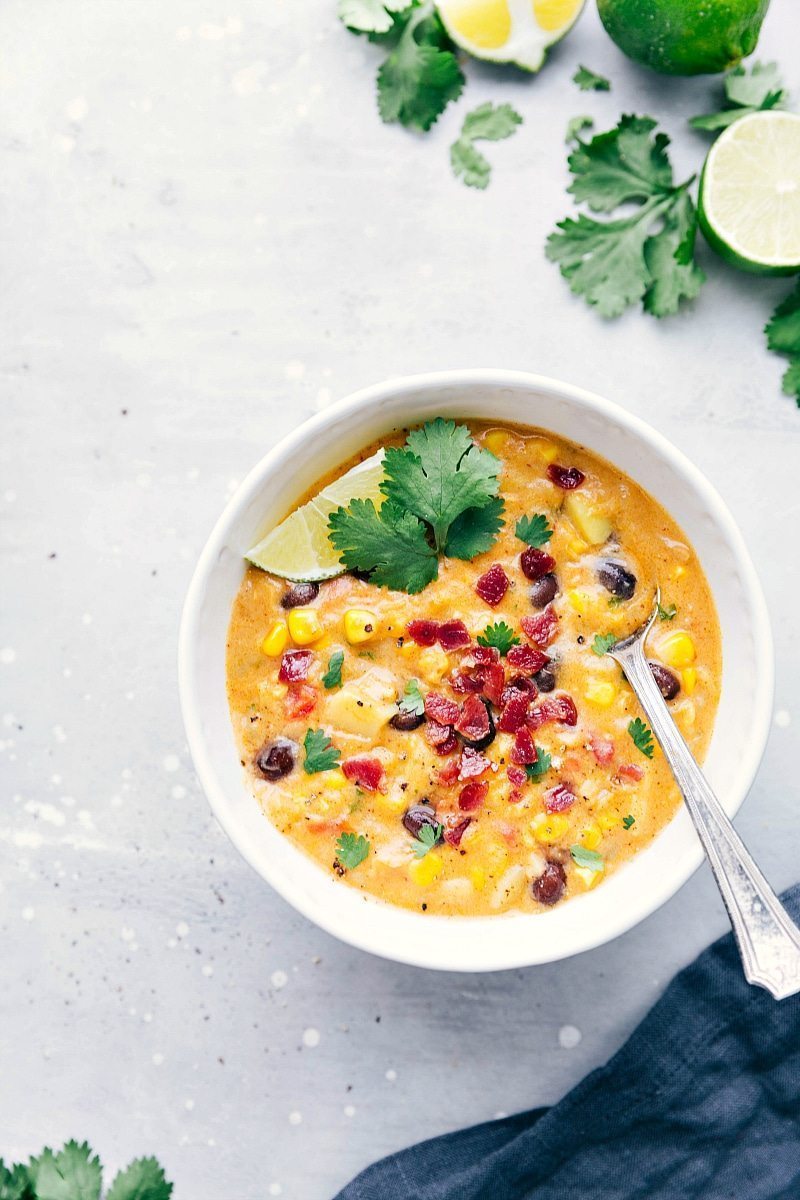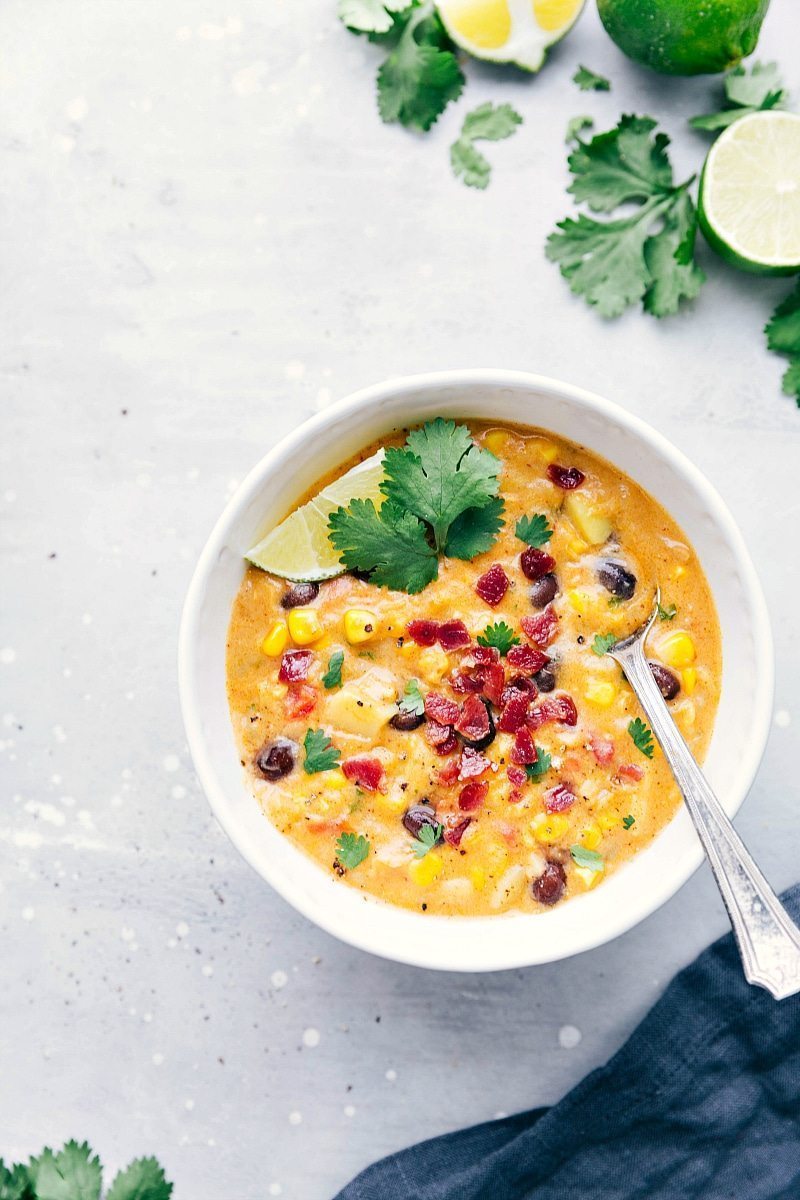 More Delicious Soup Recipes: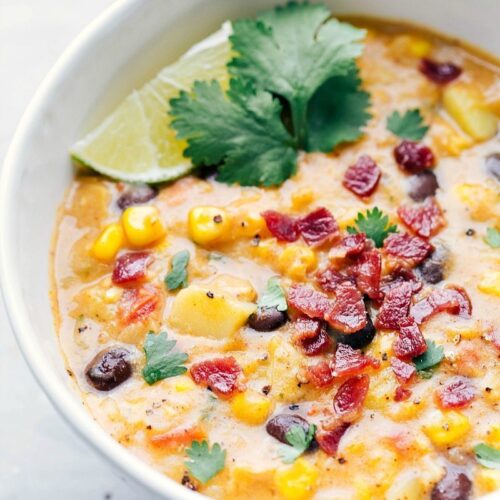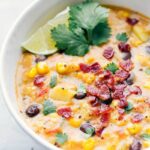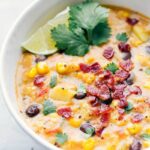 Mexican Potato, Corn, & Bacon Chowder
A simple stovetop potato, corn, and bacon chowder with Mexican spices and flavors
Course: Dinner, Soup
Cuisine: American, Mexican
Servings: 8 -10 servings
Calories: 448 kcal
Author: Chelsea
Ingredients
12

ounces

center cut bacon,

chopped

1

large

onion,

diced

1

tablespoon

minced garlic

8

medium-sized (3 pounds)

yukon gold potatoes,

coarsely chopped (we like to leave the peel on, but peel if desired)

1

container (32 ounces)

chicken stock (not broth)

3

tablespoons

unsalted butter

1/4

cup

flour

1

cup

half and half (or heavy cream)

1 and 1/2

teaspoons

seasoned salt,

or to taste

1/2

teaspoon

pepper,

or to taste

1

tablespoon

chili powder

1/2

teaspoon

paprika

1 and 1/2

teaspoons

ground cumin

1/4

cup

finely chopped cilantro

1

can (15 ounces)

southwestern corn

1

can (15 ounces)

black beans,

drained and rinsed (optional)

1

can (4 ounces)

fire-roasted green chiles

2

cups

sharp cheddar or colby jack cheese,

shredded

Optional: additional cilantro for topping, fresh lime
Instructions
In a dutch oven or large stockpot, cook the chopped bacon over medium heat until crispy. Using a slotted spoon, remove the bacon from the pan, and set aside on a paper towel lined plate. Cover with foil. In the dutch oven, drain off all but 1/4 cup of the bacon grease.

Cook the chopped onion in the reserved bacon drippings for 4-5 minutes or until onion is translucent. Stir in garlic, and continue cooking for 30 seconds. Add the coarsely chopped potatoes, and stir. Saute the potatoes for 3 to 4 minutes. Add in the chicken stock. The liquid should barely cover the potatoes. Cover, and simmer over medium low heat until potatoes are tender and easily pierced with a fork, about 20 minutes.

Meanwhile, in a separate pan, melt the butter over medium heat. Whisk in the flour. Cook, stirring constantly, for 1 to 2 minutes. Whisk in the half and half or heavy cream, salt, pepper, chili powder, paprika, cumin, and cilantro. Stir until completely smooth and thickened. Stir the cream mixture into the potato mixture and mix until completely smooth. Puree about 1/2 the soup, and return to the pan OR (if you like a chunkier chowder), use a potato masher and mash about half of the soup while in the dutch oven. Stir in the southwestern corn (undrained), and fire-roasted chiles (undrained.) If desired, add in the black beans (drained and rinsed). 

Taste and adjust any seasonings to taste. Serve into bowls and stir in a large handful of shredded cheese into each bowl. Top with additional cilantro if desired and add a small handful of reserved bacon to each bowl. Serve with a lime wedge if desired.