Crockpot Sweet & Sour Meatballs
These delicious Asian-inspired Sweet & Sour Meatballs made in either the slow cooker or oven (instructions for both methods.)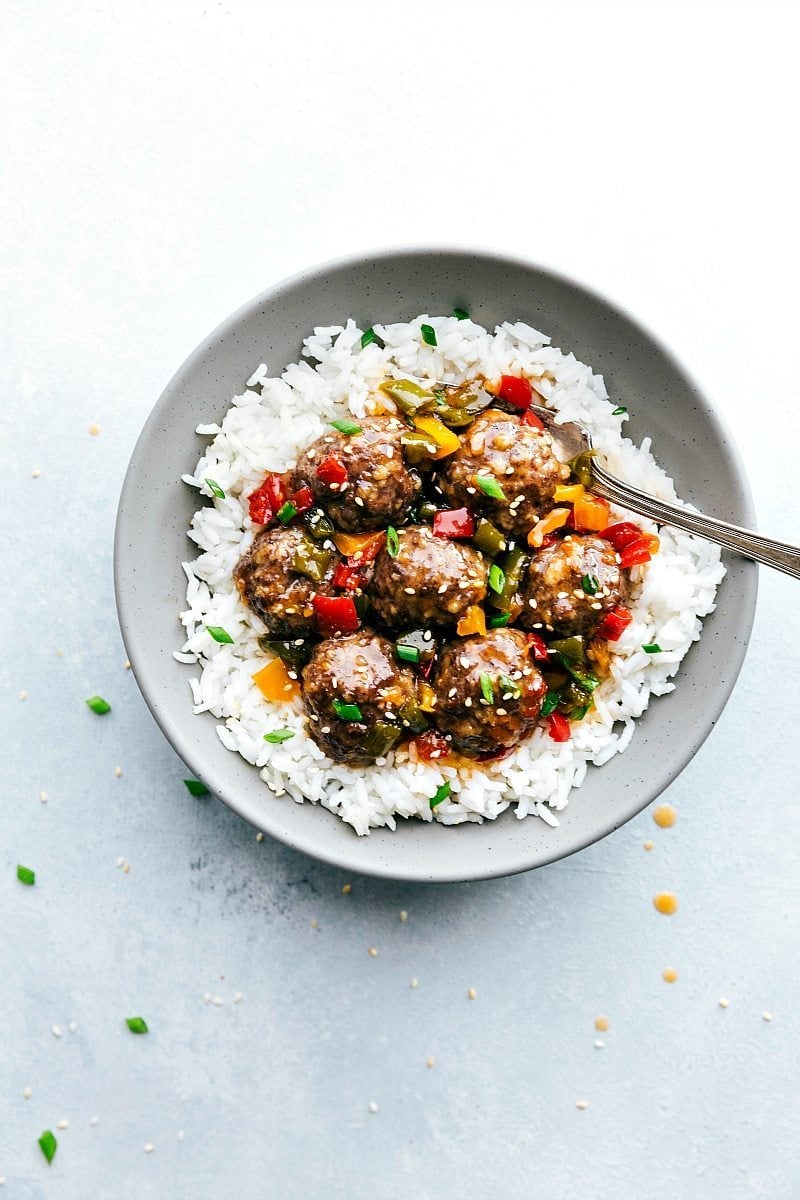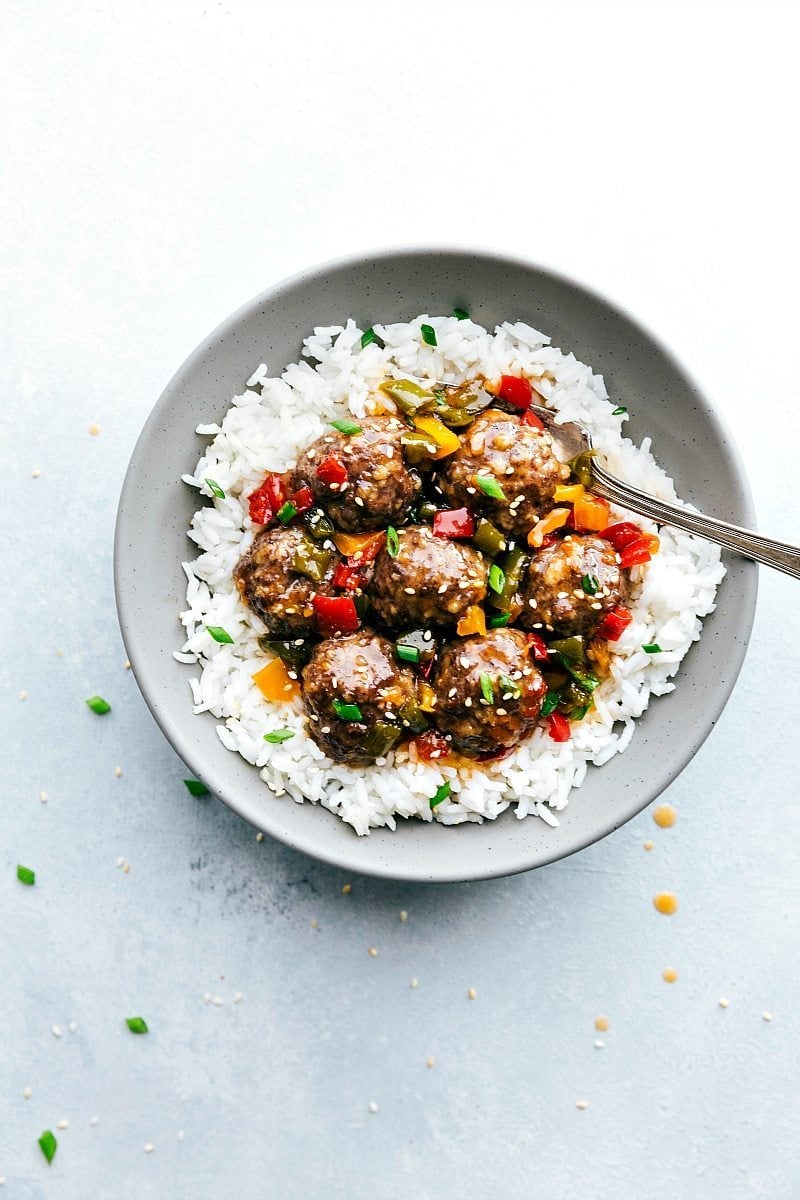 My good friend, Carrian, from the famous Oh Sweet Basil blog, recently released a cookbook. I couldn't be more excited to share a little bit about the book and these sweet & sour meatballs (from her book) with you today!
These sweet & sour meatballs are insanely good and packed with the best Asian flavors. And even with how insanely good the meatballs are, the sauce is what we all went crazy for!
The sauce starts with diced bell peppers and then the usual suspects of a sweet & sour sauce. But the ingredient that I think takes it over the top? Mandarin oranges! You'll add half a can of the oranges + the juice of the can and I swear that is the best addition to this amazing sauce!


As mentioned earlier, these meatballs can be made either in the oven OR the crockpot. Once you roll the meatballs out you can quickly bake them while you make the sauce on the stovetop. OR you can throw all the meatballs into the crockpot (and cover them in the sauce) and cook on low for a few hours.
If you're making them stovetop method, they come together very nicely — this is one of those recipes that flows really well in the kitchen. However, if you want to make them ahead of time, the crockpot is a great way to do that!
I also like cooking them in the crockpot because I find the meatballs to be just a bit more tender and more flavorful from the slow cook. They get a longer time for the flavors to really develop.
One little trick that I like to do before cooking meatballs in the crockpot is to broil them in the oven for a few minutes. I've found this helps the meatballs to keep their shape when cooked in the crockpot. This is, of course, an optional step and if you don't mind meatballs that separate a bit (from being SO tender), then don't even worry about it!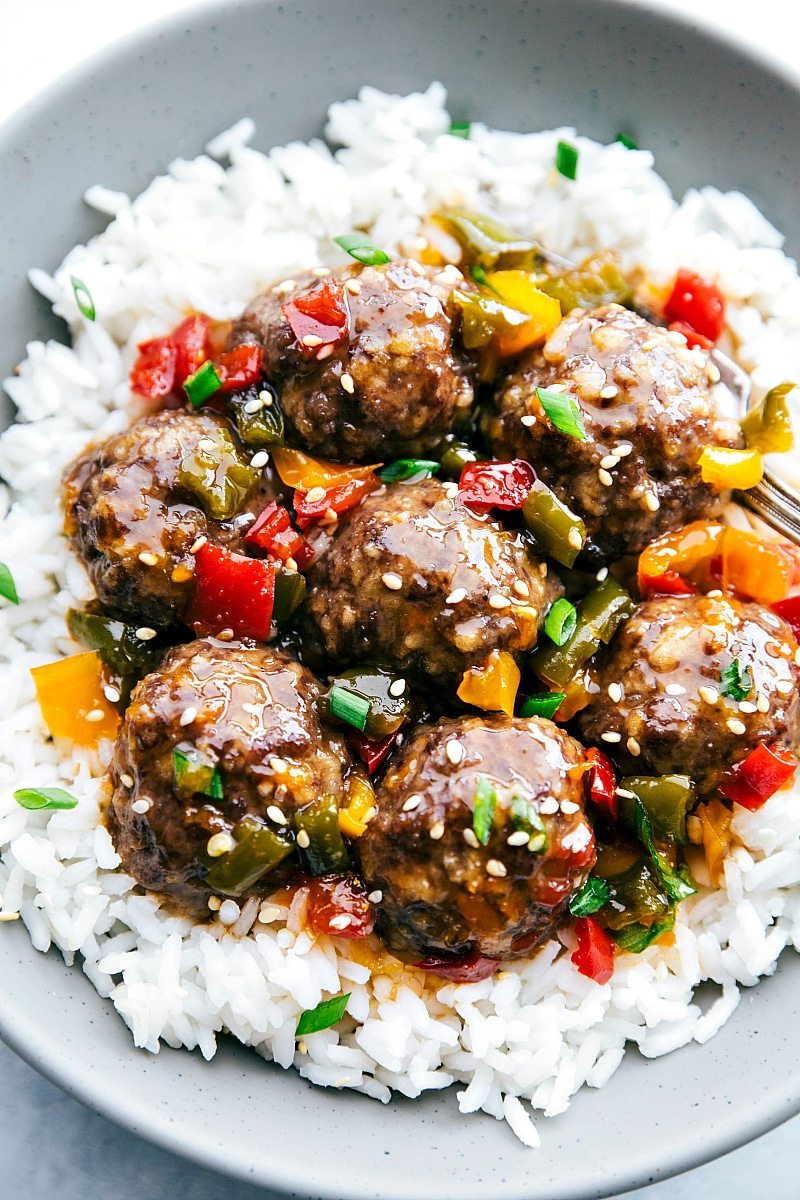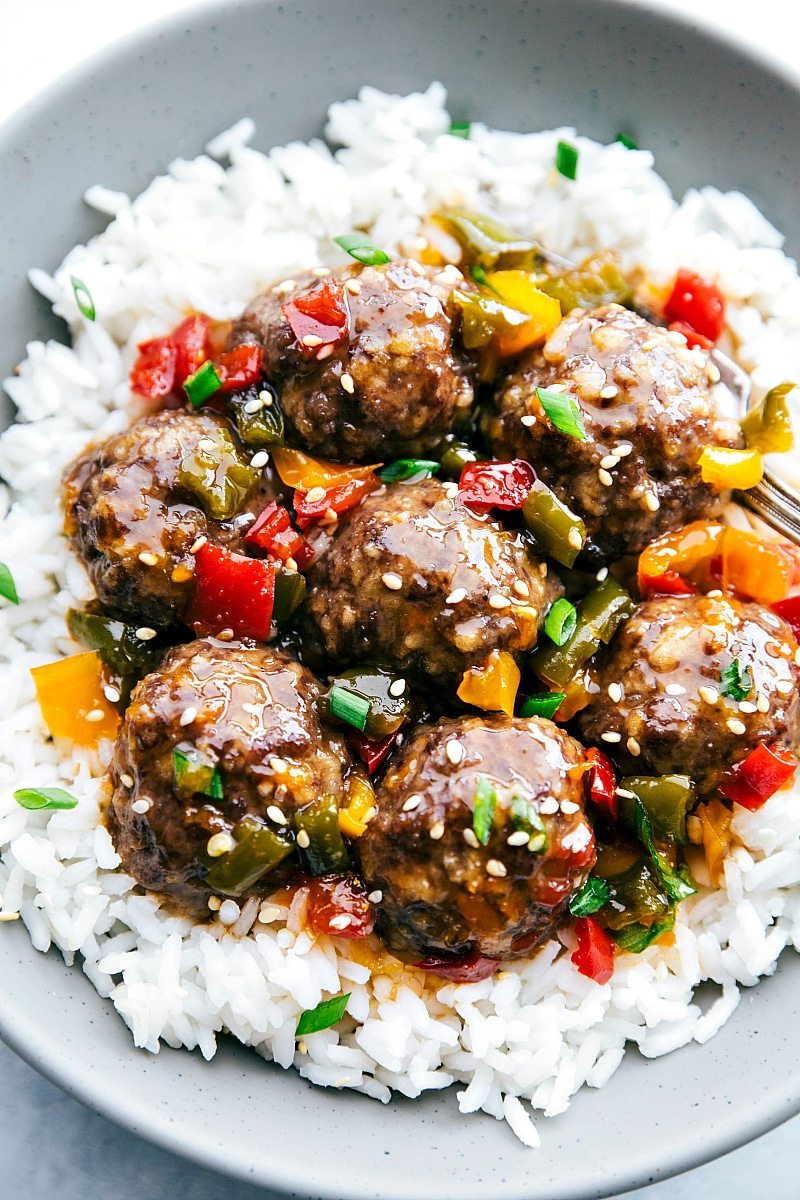 My whole family went nuts over this recipe and I know if you're a fan of sweet and sour sauce and/or meatballs that these will be a hit in your home!
This recipe is one of over 100 beautifully created and photographed recipes in Carrian's cookbook. The book includes pictures for each of their recipes as well as clearly written out directions and cute anecdotes about the recipes.
Make sure to grab a copy of the Our Sweet Basil Kitchen Cookbook.  You will love all of the recipes inside just like my family has already and will continue to for years!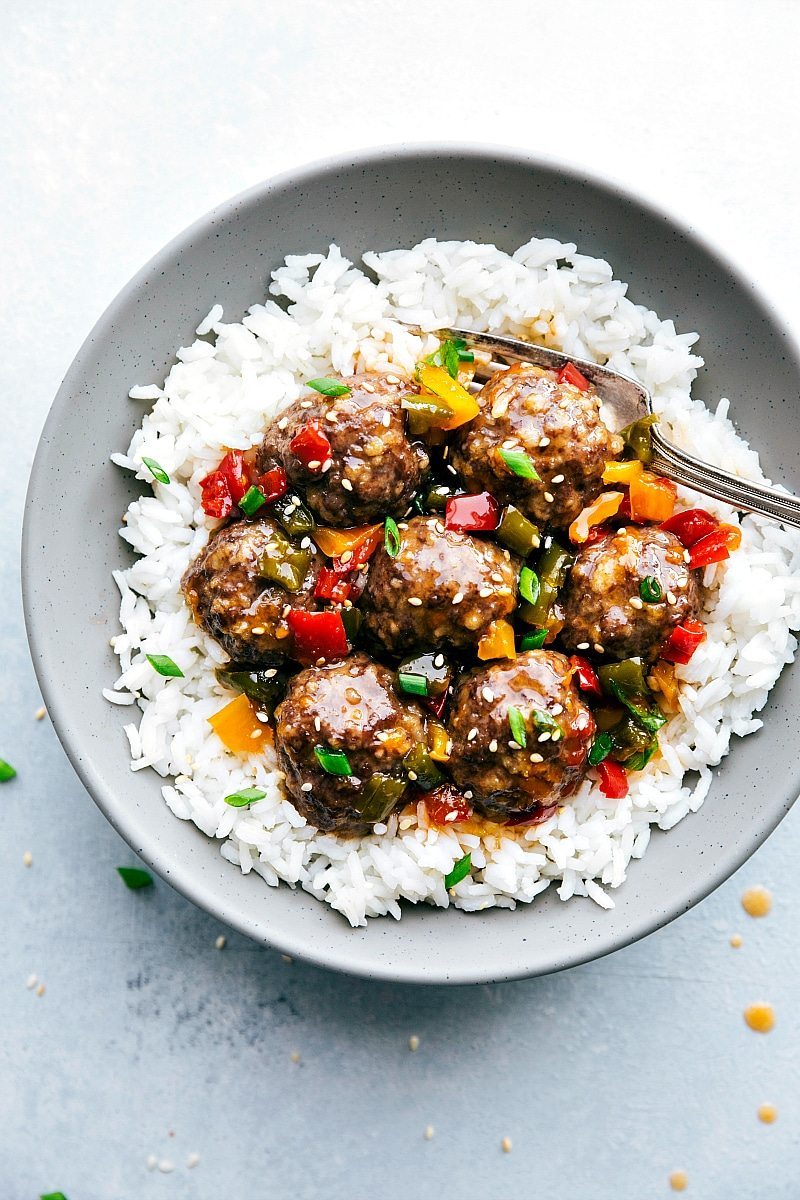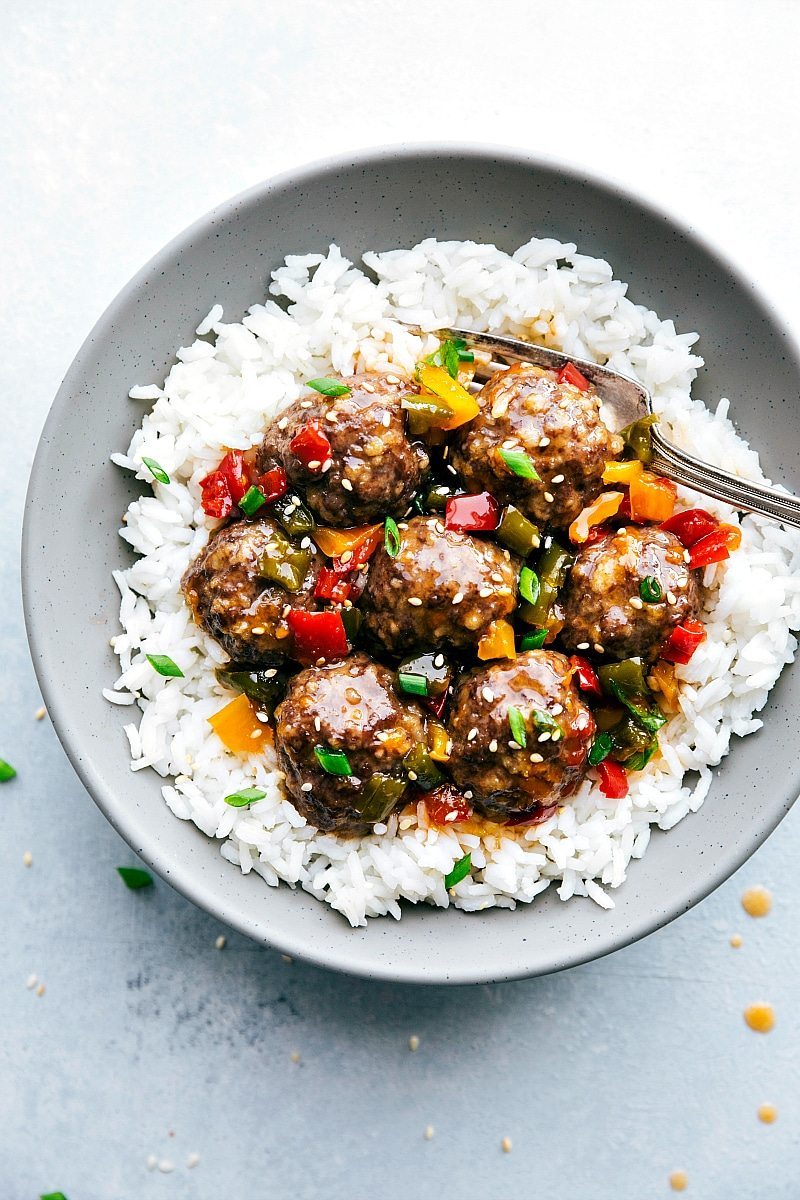 More Crockpot Dinner Recipes: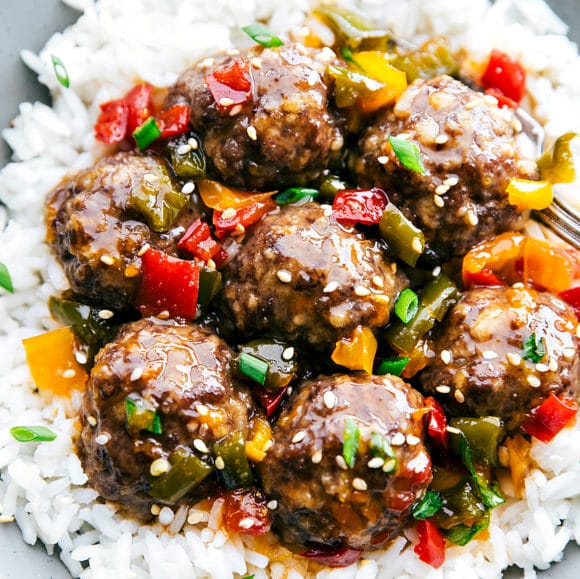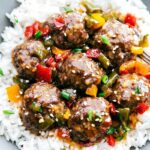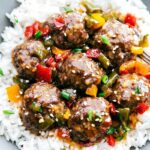 Crockpot Sweet & Sour Meatballs
Easy crockpot sweet & sour meatballs! Oven method included.
Course: Dinner
Cuisine: Chinese
Servings: 35 meatballs
Calories: 807 kcal
Author: Carrian, from the "Our Sweet Basil Cookbook"
Ingredients
Meatballs
2

pounds

ground beef

85-15 mix

2/3

cup

Panko breadcrumbs*

2

tablespoons

dried minced onion

1

large

egg

1/4

cup

coconut milk

1 and 1/2

teaspoons

ground ginger

Salt and Pepper
Sweet & Sour Sauce
1

tablespoon

canola oil

3

large

bell peppers

(1 red, 1 orange, 1 green)

1

clove

garlic,

finely minced

1 and 1/2

teaspoons

onion powder

1/2

cup

rice vinegar

1/2

cup

ketchup

1/4

cup

low-sodium soy sauce

2

cups

white granulated sugar

1/8

teaspoon

sesame oil

1/2 of 1 full

(11 oz. can)

mandarin oranges,

smashed with their juices

2-3

tablespoons

cornstarch

1/4

cup

cold water

Optional: toasted sesame seeds, green onions, rice for serving
Instructions
IF USING THE OVEN: Preheat oven to 400 degrees. Grease a 9×13-inch baking pan. IF USING THE CROCKPOT: lightly oil the cooking insert. In a large bowl, add ground beef, Panko breadcrumbs, minced onion, egg, coconut milk, ginger, salt and pepper (2 teaspoons salt & 1/4 teaspoon pepper). Mix with your clean hands until just combined. Rub a little oil on your hands and then roll the meat mixture into 1-inch balls. Place meatballs in prepared baking pan or slow cooker.

Bake 20 minutes in the preheated oven OR set slow cooker to low and bake, covered with sauce, 3-4 hours.**

To make the sauce: In a saucepan over medium heat, add the oil, chopped peppers and garlic. Sauté until tender, about 3 minutes, stirring frequently. Add the onion powder, vinegar, ketchup, soy sauce, sugar and sesame oil. Stir to combine and then add the oranges and juice. Bring to a boil.

Meanwhile, stir the cornstarch and water together and then whisk into the sauce. Bring back to a boil, then reduce heat to medium-low and simmer 10 minutes. Serve over meatballs with sesame seeds and green onions to garnish. Serve all over rice if desired.
Recipe Notes
*Panko is generally used in Japanese cooking and it can be found in the grocery store in the Asian foods aisle.  **I like to broil the meatballs in the oven before putting them in the crockpot to help them hold their shape better and keep the moisture in. This is totally optional, but if you want to do it, place all the meatballs on a large foil-lined cookie sheet and broil in the oven for 2-3 minutes per side (watch carefully).