We're channeling the flavors of empanadas into these easy Beef & Potato Tacos! Crispy corn tortillas are loaded with a seasoned beef and potato mixture, lots of cheese, and pickles.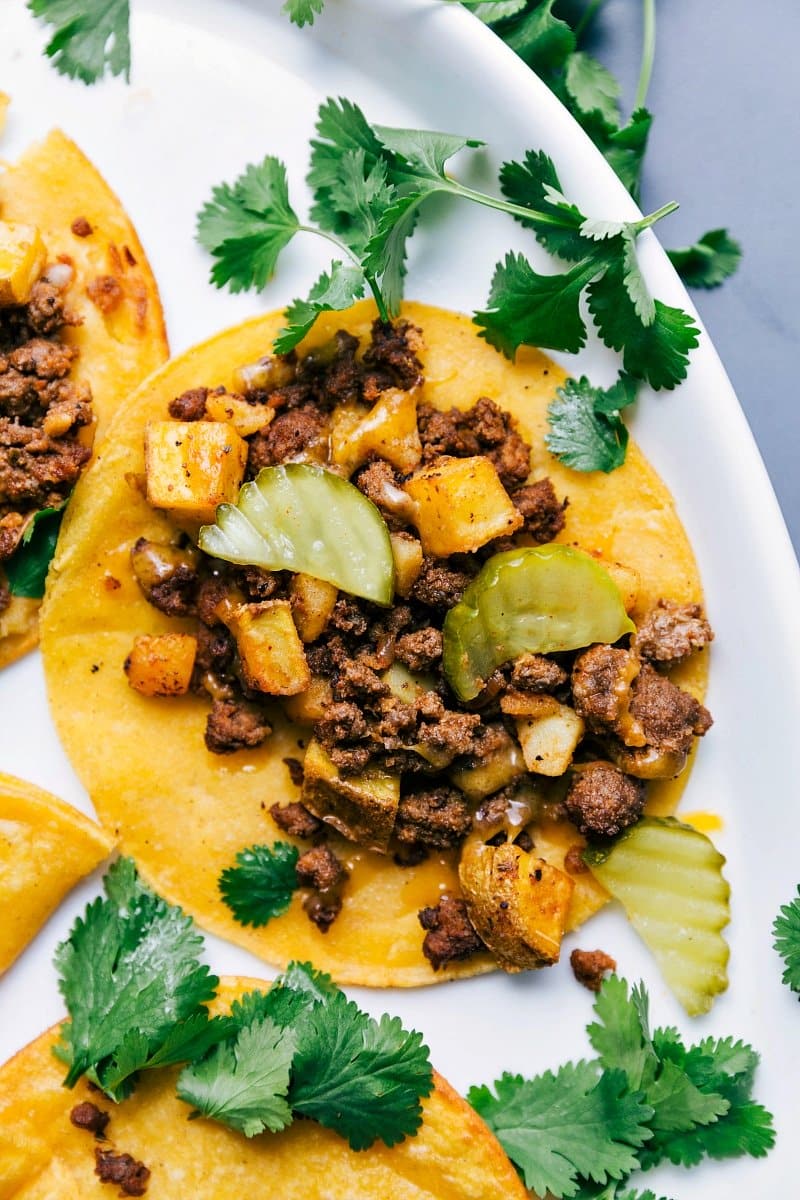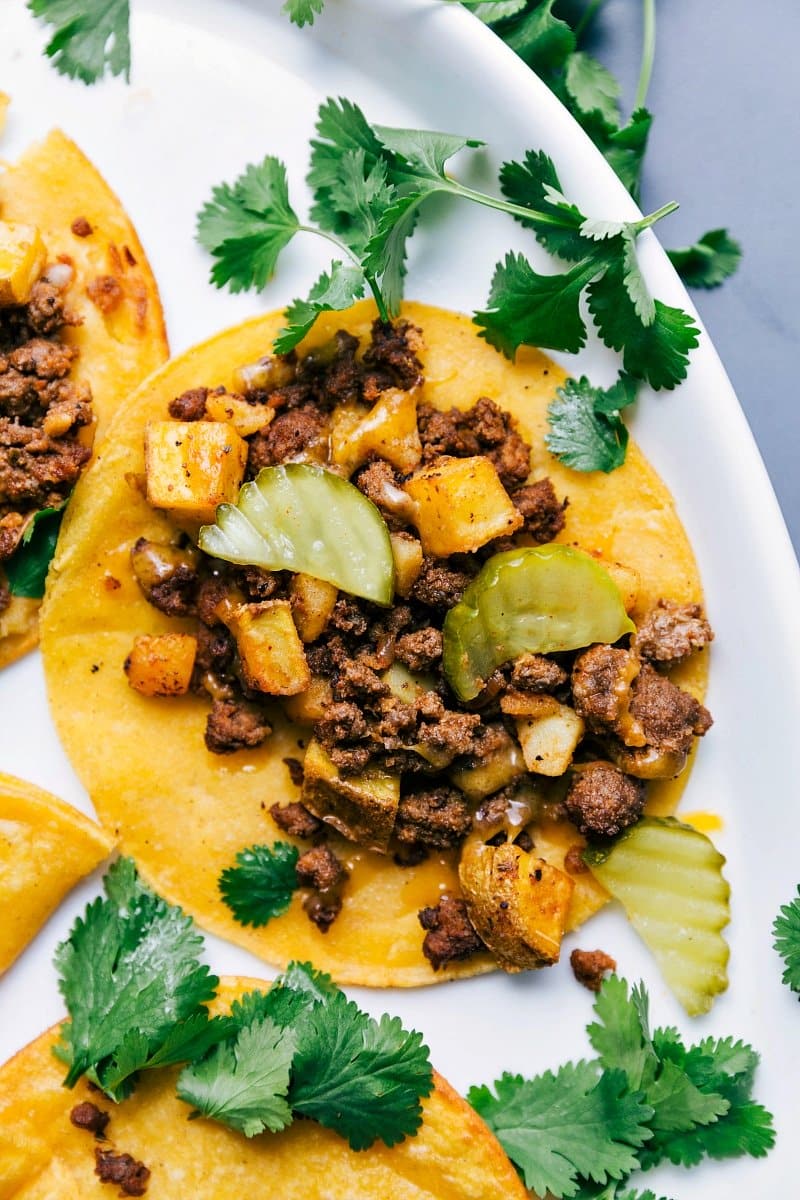 Empanadas in taco form: Beef and Potato Tacos
In college, a good friend of mine made empanadas a few times for my roommates and I. We were totally obsessed with them and begged him to make them over and over again. While I seriously love empanadas, I'll admit they don't get made very often at my home. With making the dough and filling, they can be fairly time consuming to make and, honestly, I don't love deep frying.
So after getting referred to this "famous" recipe from a restaurant in LA, I had to try it out. One bite in and the tacos completely reminded me of empanadas. Except, they are so much easier to make. I'm talking 30 minutes easy! And while these tacos will never be called health food, this recipe is a lot better for you than traditional deep-fried empanadas, so I'll take it :). Beef and Potato Tacos make for a great, budget-friendly, pantry-staple kind of meal; we use potatoes and onion to bulk out the meat and we keep the taco toppings to a minimum. In fact, you only need two toppings: cheese and pickles! 
I've made a few tweaks to the original recipe and am excited to share my version of Beef and Potato Tacos with you today. So, let's start with how to make these tacos.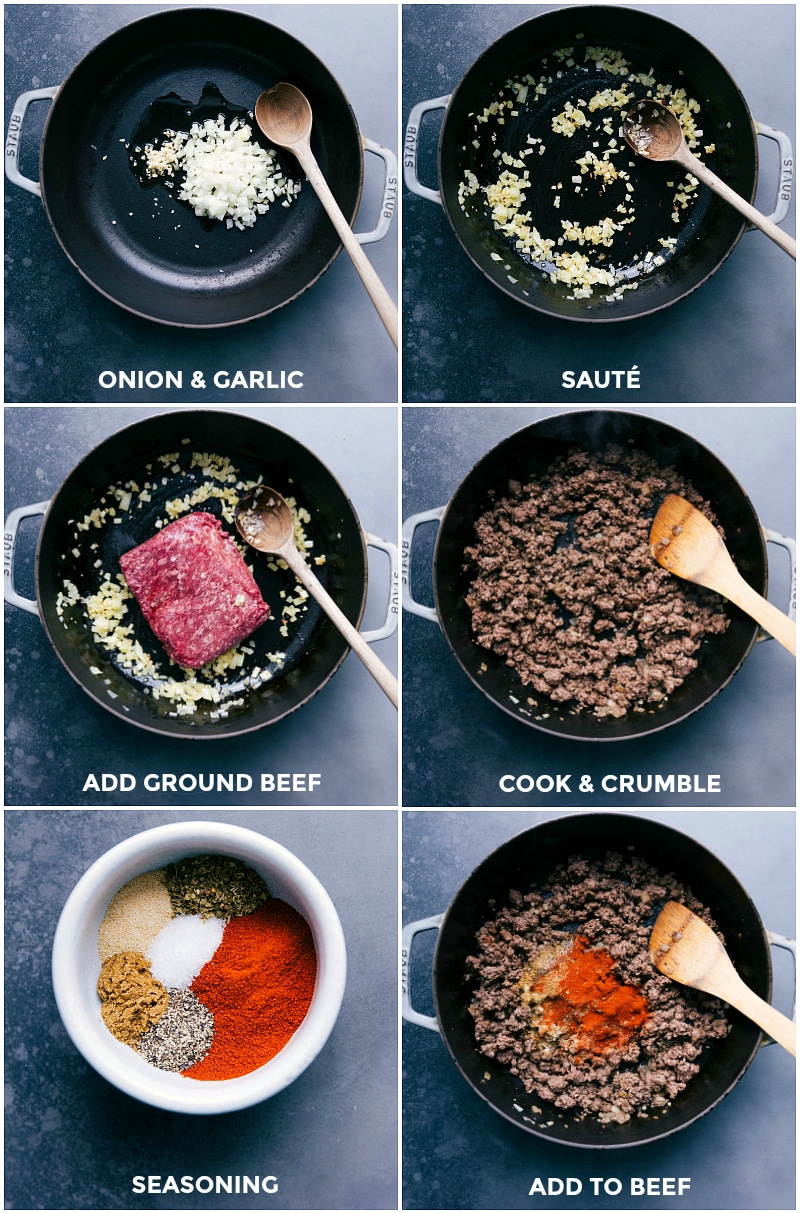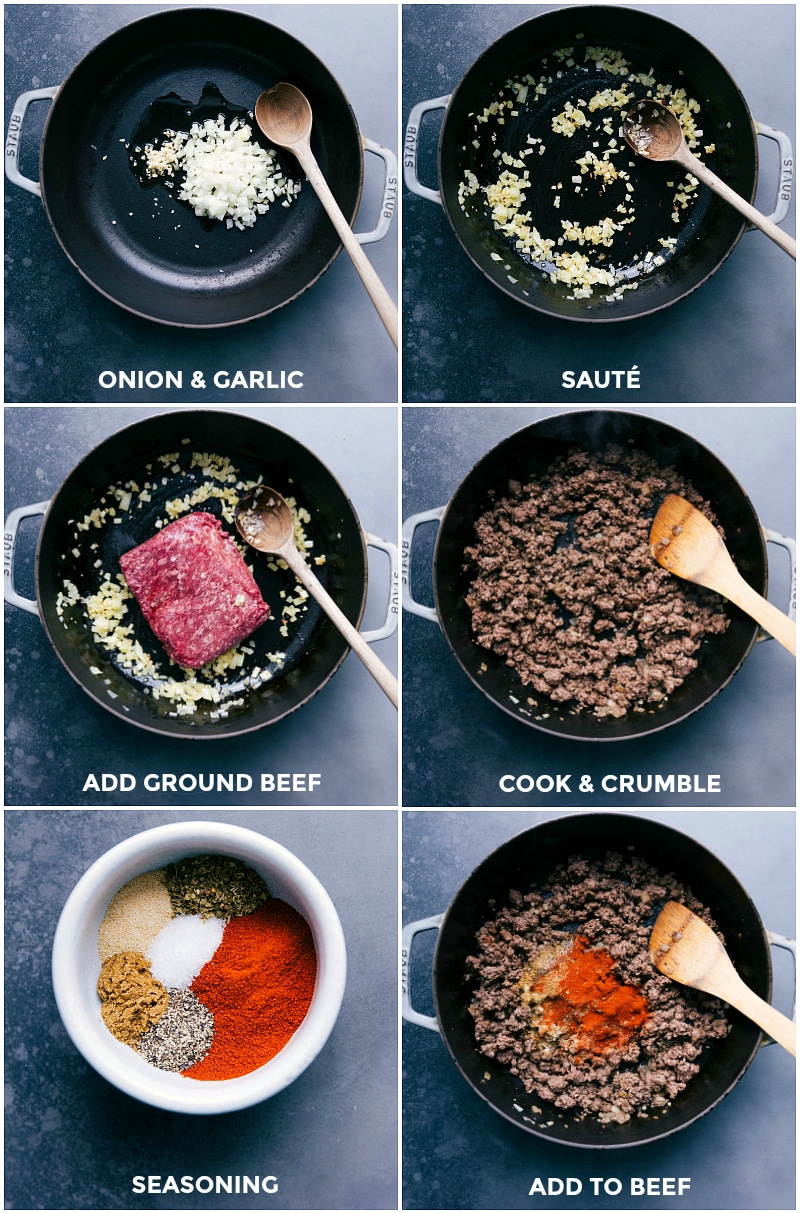 How to make Beef and Potato Tacos
Boil the potatoes. Depending on the size of the potato, this can take a bit of time, but it's super easy. Cover the potatoes in cold water, bring to a boil, and cook until fork tender. You could alternatively make roasted potatoes. We've tried both boiled and roasted potatoes in these tacos and there weren't big differences.
Cook the beef. Start by sauteing an onion and some garlic before adding in some beef. The beef gets cooked and crumbled until fully browned. Then it's seasoned with an easy blend of four spices (plus some salt and pepper).
Fry the tortillas. To get that empanada feel, the tortillas are quickly fried in some canola or vegetable oil until lightly browned. Immediately fold the tortilla in half after frying it for easier assembly. More on frying corn tortillas below.
Assemble the tacos.  Toss the potato with the beef and load the filling into the tortillas. Add some cheese immediately so it can melt from the heat of the filling and tortillas. And last, but not least, add in some chopped kosher dill pickles. Fold it up and enjoy!
How to fry corn tortillas
While the filling for these Beef and Potato Tacos is finishing up, it's time to quickly fry the tortillas. Here's how to do that:
Heat a heavy skillet over medium–high heat.
Add 2-3 tablespoons canola or vegetable oil to the pan and heat (The oil is hot enough when it is shimmering, or a drop of water sizzles/pops when added in).
Add the tortilla(s) (as many as you can fit without overlapping) and fry for 10-30 seconds per side or until lightly browned and cooked.
We're aiming to keep the tortillas soft and pliable — they should not be crispy.
Immediately after removing the tortillas, blot on a plate lined with paper towels and fold the tortillas in half (for easier filling).  My method is to do this by folding a paper towel in half, adding the hot tortilla to one side of the paper towel and folding the other side on top. Add the next tortilla on top of that and continue to layer with paper towels.
Add more oil to the skillet as needed.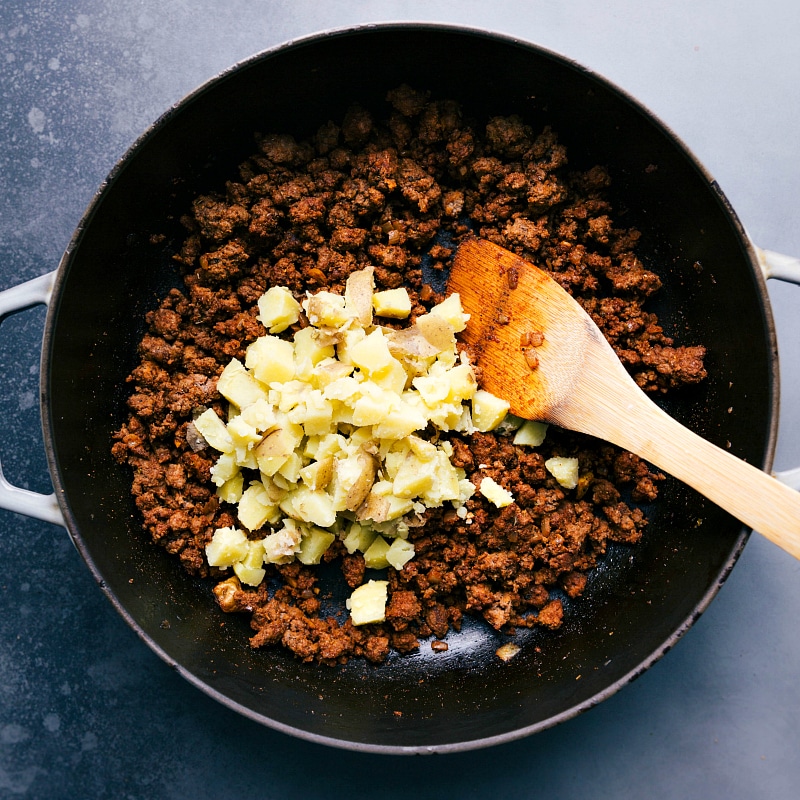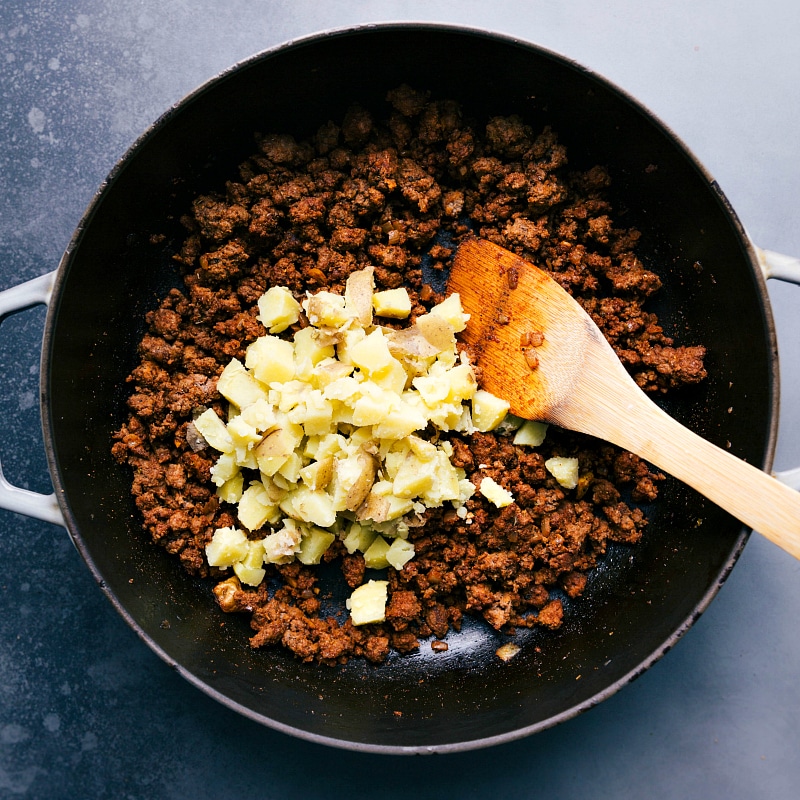 Beef  and Potato Taco tips
Have the toppings ready: Chop up some kosher dill pickles and grate the cheese so they're are ready to use as soon as the filling and tortillas are finished. The goal is for the cheese to melt from the heat of the meat filling and fried tortillas.
Add some spice: If you like spicy tacos, drizzle some hot sauce on top and/or add some cayenne pepper to the beef mixture (1/8 to 1/4 teaspoon).
Optional dip/sauce: If you crave some creaminess, add an avocado to the tacos or serve an easy aioli dip on the side. To make that dip, whisk together 1/2 cup good mayo (I like Hellmanns/Best Foods®), 1 tablespoon adobo sauce (the sauce surrounding the canned adobo peppers), and 1 tablespoon lime juice. Season to taste with salt and pepper.
Serve Beef and Potato Tacos alongside a simple salad like this fruit salad, Italian salad, or Panzanella salad.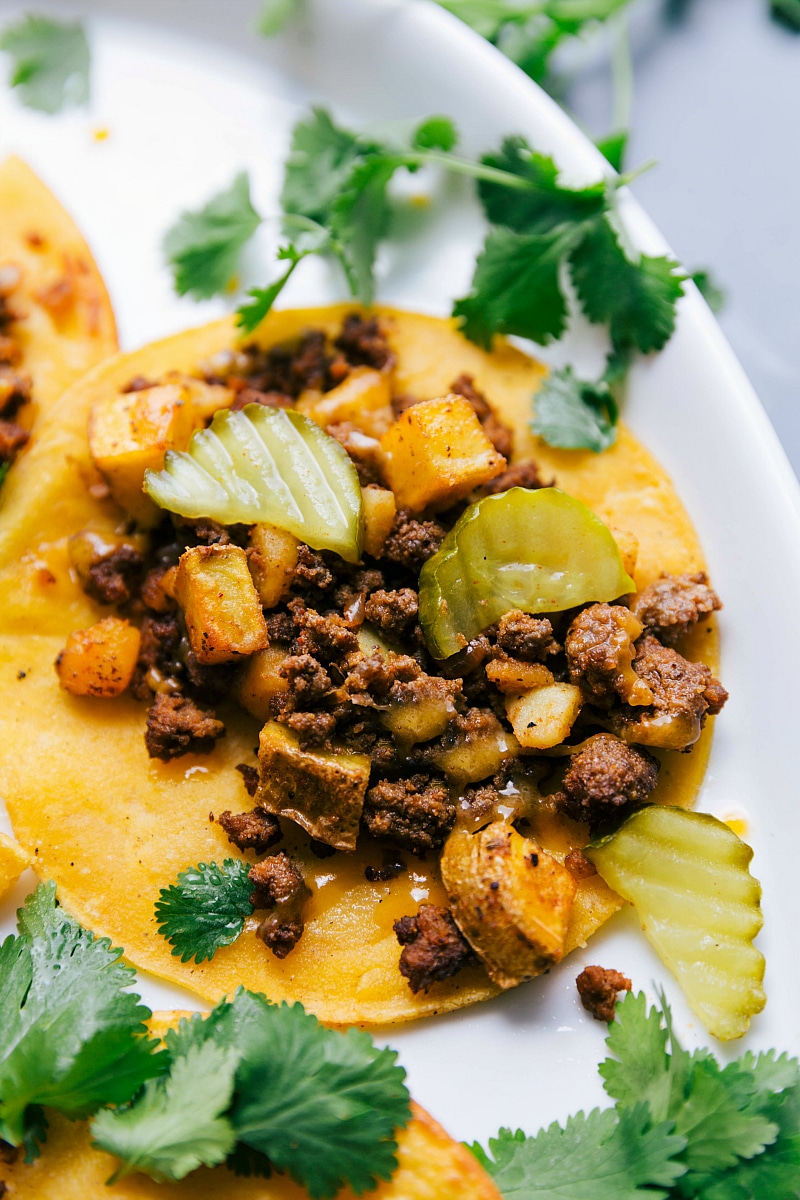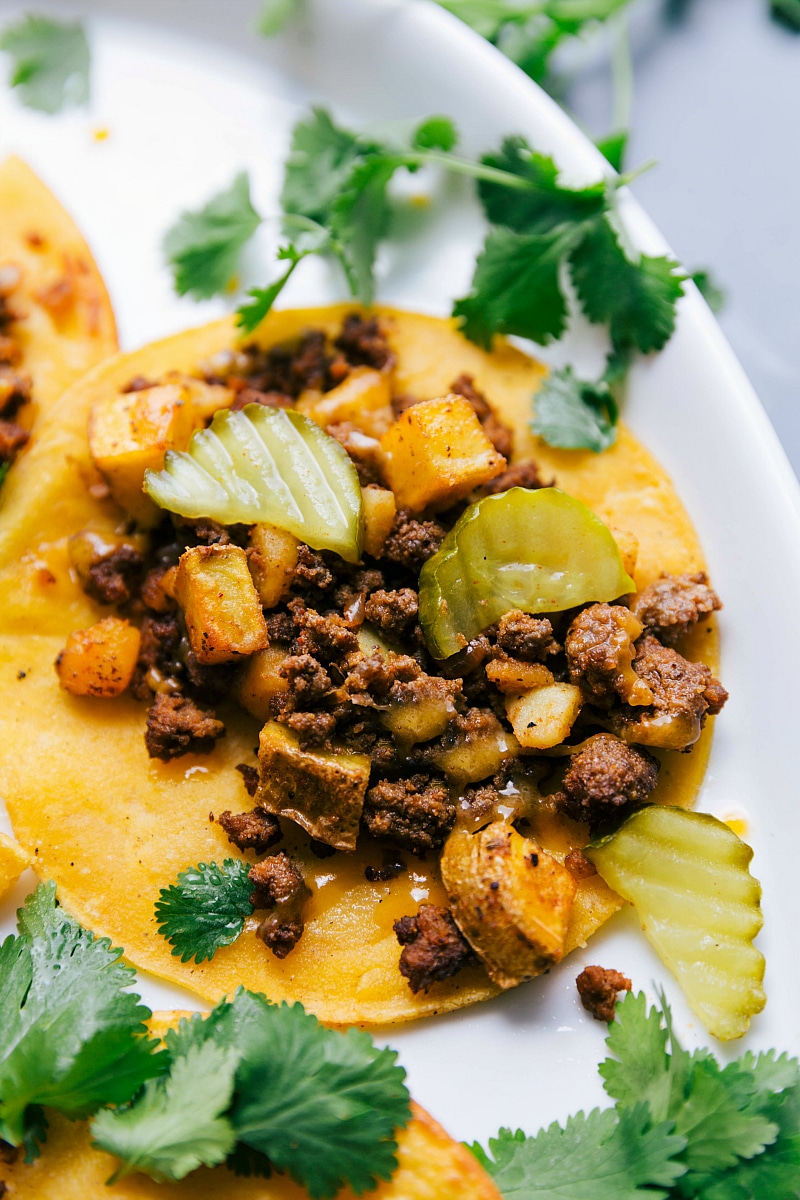 More taco recipes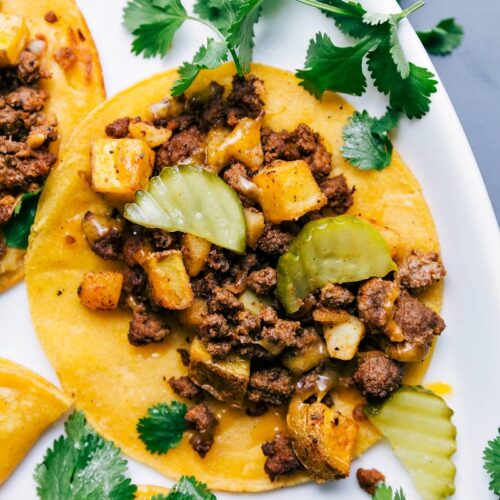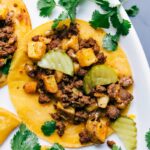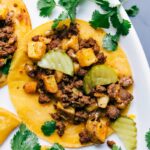 Beef and Potato Tacos
We're channeling the flavors of empanadas into these easy Beef and Potato Tacos! Crispy corn tortillas are loaded with a seasoned beef and potato mixture, lots of cheese, and pickles.
Course: Dinner, Main Course
Cuisine: American, Mexican
Keyword: beef & potato tacos
Servings: 4 -6 servings
Calories: 208 kcal
Ingredients
2-3

medium sized

Yukon gold potatoes

(~1 pound)

1

tablespoon

olive oil

1/2

cup

diced yellow onion

1

teaspoon

minced garlic

1

pound

lean ground beef

1 and 1/4

teaspoon EACH:

garlic powder, dried oregano, ground cumin

2

tablespoons

paprika

Salt and pepper

Soft corn tortillas

(See Note 1)

Canola or vegetable oil (for frying tortillas)

Toppings: freshly grated sharp Cheddar cheese, kosher dill pickle slices, optional: hot sauce
Instructions
POTATOES: Thoroughly scrub the potatoes. Add to a large pot and cover with 1 inch cold water. Place pot on burner at high heat, and once the water comes to a boil, salt the water — about 1 teaspoon per pound potatoes. Once water is rapidly boiling, slightly reduce heat to medium high and cook at rapid simmer until potatoes are easily pierced with a fork, about 15-20 minutes, depending on the size (large potatoes will take longer). Once fork tender, drain the potatoes and set aside to slightly cool.

GROUND BEEF: Meanwhile, measure out the seasonings, dice the onion, and mince the garlic. Heat a large cast iron skillet to medium high heat and drizzle in 1 tablespoon oil. Once oil is shimmering, add in the 1/2 cup diced yellow onion. Sauté for 3-4 minutes and then add in the 1 teaspoon minced garlic. Stir for 30 more seconds and then move the onion and garlic to the edges of the pan. Increase the heat to high and add the ground beef to the center of the pan. Let cook, undisturbed for 30 seconds. Flip to the other side cook undisturbed for 30 more seconds. Then continue to cook the ground beef, crumbling into small pieces with a wooden spoon, until no longer pink. As you cook and crumble the beef, incorporate the onions and garlic into it. Add in all the spices: the 1 and 1/4 teaspoon of garlic powder, oregano, and cumin. Add in the 2 tablespoons paprika. Season to taste with salt and pepper. Stir until fragrant, 2-3 more minutes, and then remove from heat.

FINISHING MEAT MIXTURE: While the beef is browning, dice the boiled potatoes into small 1/2-inch pieces (you should get about 2 cups potatoes). Add to the beef mixture and stir to coat.

TORTILLAS: Add a few tablespoons of canola oil to a nonstick pan and heat over medium high heat. Once the oil is shimmering, add in 1-2 tortillas (or as many as you can fit without overlapping). Fry tortillas until each side is lightly golden brown, about 10-30 seconds per side (tortillas should still be soft and pliable). Drain the tortillas on a paper towel and immediately fold in half (place a paper towel or heavier towel over tortillas to keep them folded in half). Repeat for all the tortillas, adding more oil to the skillet as needed.

SERVE: To serve, spoon the hot beef and potato mixture into the hot tortillas. Immediately add in some grated Cheddar cheese so it can melt. Top each taco with a few slices of dill pickles and serve immediately with hot sauce on the side.
Recipe Notes
Note 1: The number of corn tortillas used will vary depending on the size of the tortillas used and how full the tacos are filled.