Baked Gnocchi & Vegetables
This post may contain affiliate links. Please read my disclosure policy.
An easy one pan oven baked gnocchi & vegetables with a delicious Italian-inspired seasoning mix and optional cilantro-herb sauce. This dinner is easy, healthy, and filling! 
We love pairing this baked gnocchi dinner with this Italian salad or bruschetta. If you're looking to add in some meat on the side, try this grilled chicken marinade; it's a favorite!
It's no secret we're obsessed with roasted vegetables and one pan dinners, so I'm excited to share another recipe with plenty of veggies AND only one dish for you to clean up after. 🙂 If you've not tried gnocchi before, it's one of our favorites. In Italian cooking, gnocchis are essentially small "dumplings" usually made from potatoes and flour. Homemade gnocchi with a hearty marinara or meat sauce is one of my favorite meals, but it's also somewhat time consuming to make.
So, today we're grabbing store bought gnocchi (still delicious) and pairing it with roasted veggies in a simple meal made on one sheet pan. And if you're really into sauces with your gnocchi or veggies, I've also made this a few times with an herby cilantro sauce that I'm sharing the recipe for today as well. So let's get started!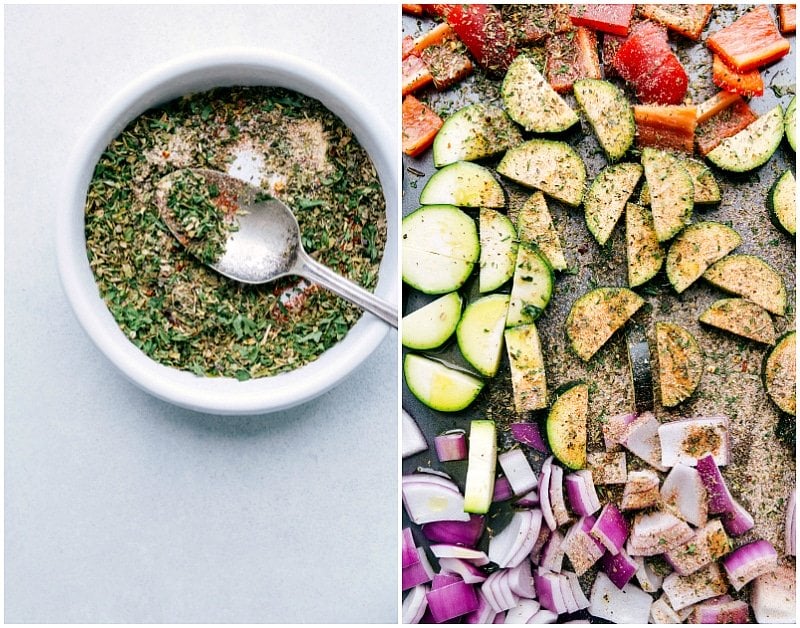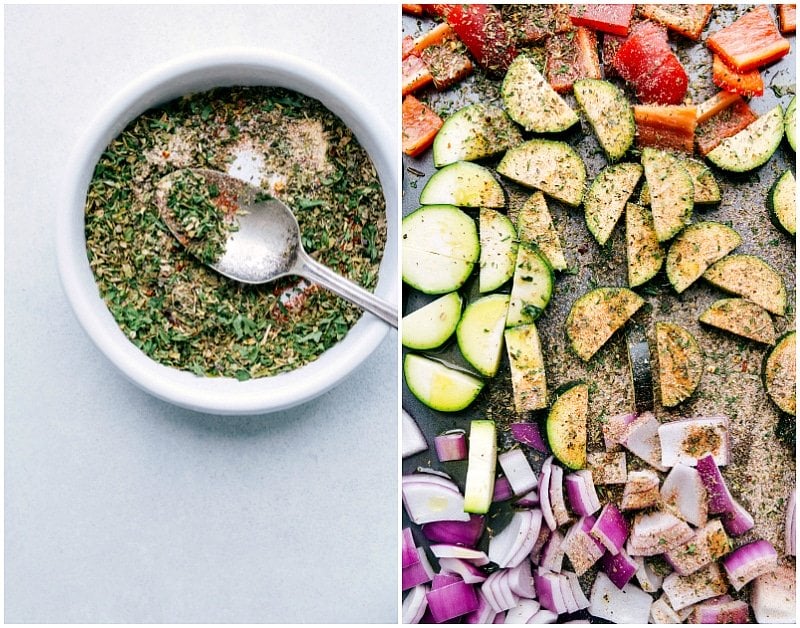 How to make baked gnocchi
Prep veggies: cut all of your veggies to uniform sizes for even roasting. This means: zucchini in 1/2 inch thick half moons, 1/2 inch chunks of red pepper and red onion, and quartered or halved mushrooms depending on their size.
Make seasoning mix: toss together all of the spices in a small bowl OR just throw them right on top of your sheet pan! 
Bake: toss the veggies & gnocchi in seasoning mix and oil, spread into an even layer, and bake!
Top: right out of the oven you'll add some freshly grated Parmesan cheese and if desired, an herby sauce to this baked gnocchi.
Recipe variations
Switch up veggies: as long as the veggies can cook around 20 minutes, you can use them in this dinner. Some ideas: chopped asparagus, chopped yellow onion, chopped broccoli florets, quartered brussels sprouts. This chart is helpful for more ideas!
Switch up the gnocchi: this recipe calls for frozen potato gnocchi, but we've also tested it with Trader Joe's famous cauliflower gnocchi. The cauliflower version works well in this dish although tasters did prefer potato gnocchi. (No need to thaw it or anything before adding!) 🙂 Additionally, we've tested this with shelf stable gnocchi and it also works great. (Tasters still prefer frozen for flavor!)
Different sauce: while this baked gnocchi truly can stand on its own with parmesan cheese, the cilantro sauce is a delicious addition. You can also serve this with a hearty marinara sauce if desired.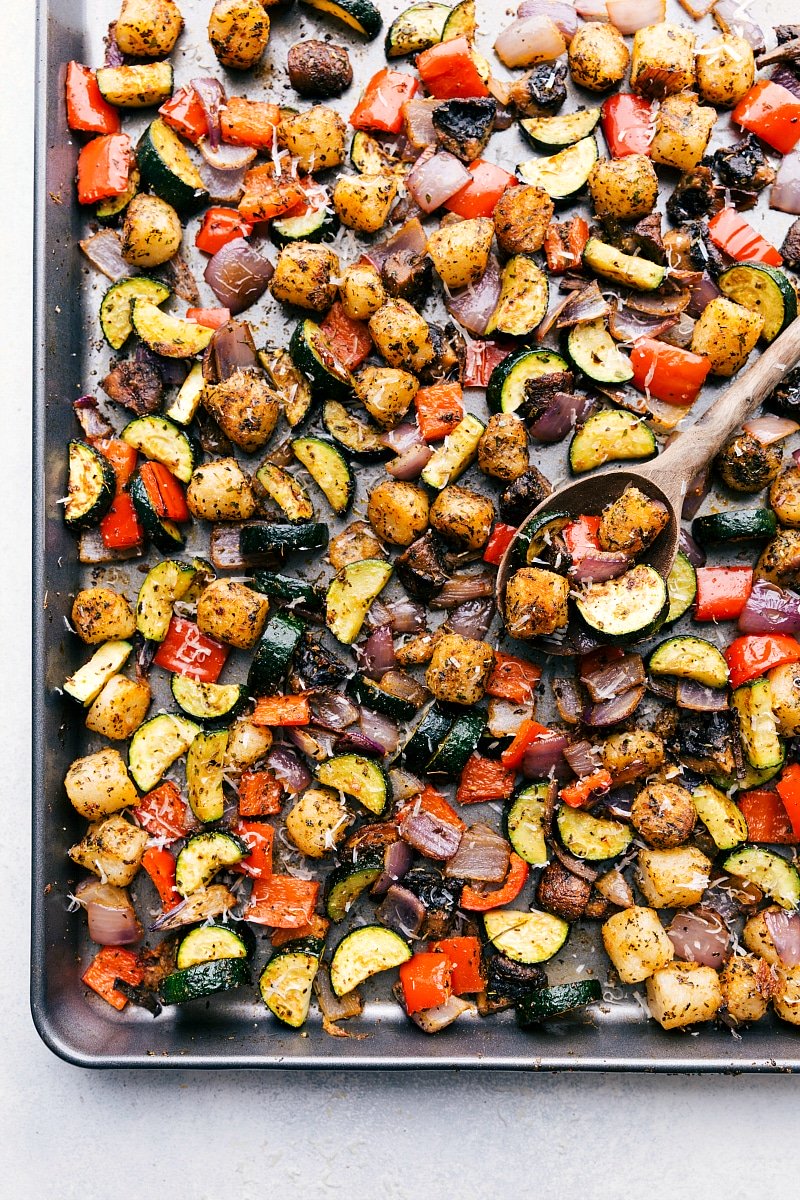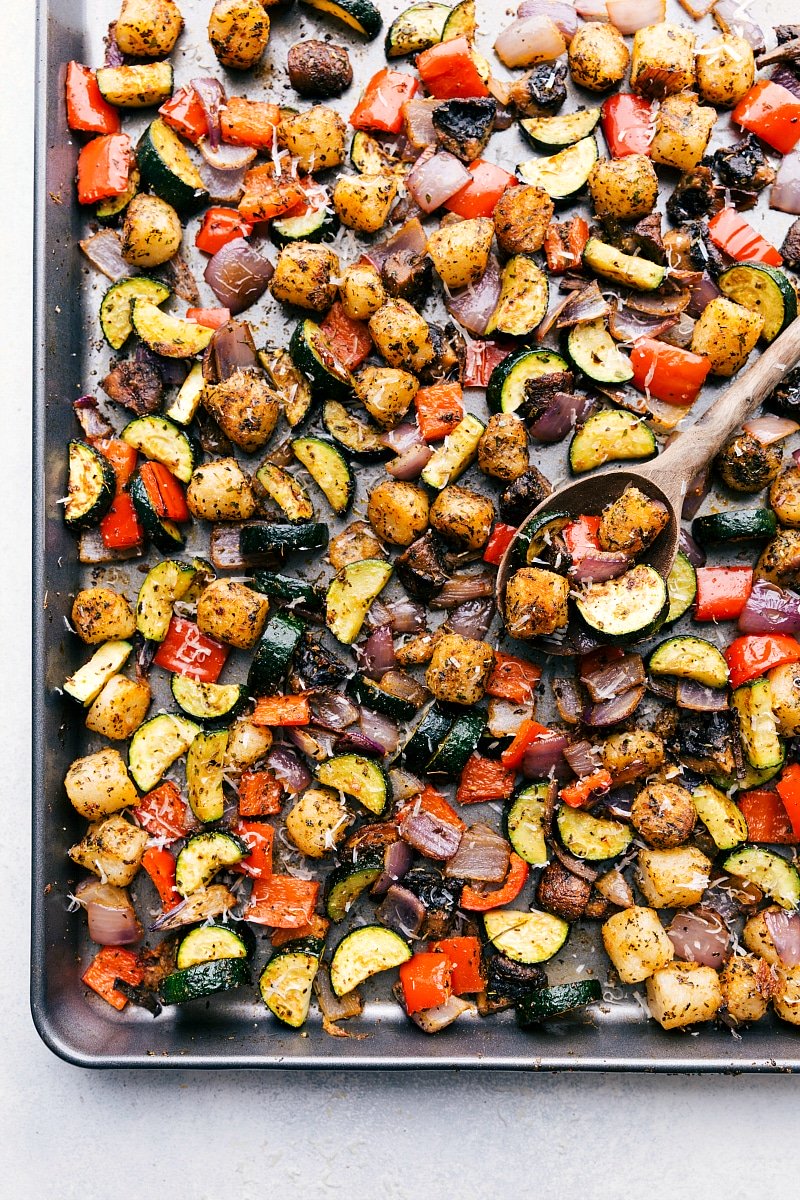 Baked gnocchi recipe tips
Use a LARGE sheet pan: the more space the vegetables have (the less crowded they are) the better they roast in the oven. When vegetables are overlapping on a sheet pan, they end up steaming instead of roasting. This will make them taste soggy not deliciously caramelized. I recommend using a this 15×21 inch sheet pan (affiliate link) for this baked gnocchi recipe.
Grate the parmesan cheese with a microplane. It gives it the perfect texture and melts beautifully into the veggies and gnocchi.
Cut the veggies into even sizes for even roasting: if the sizes of the veggies vary a lot, you'll likely get some crispy veggies while others are burned. (See how to cut a bell pepper as an additional resource.)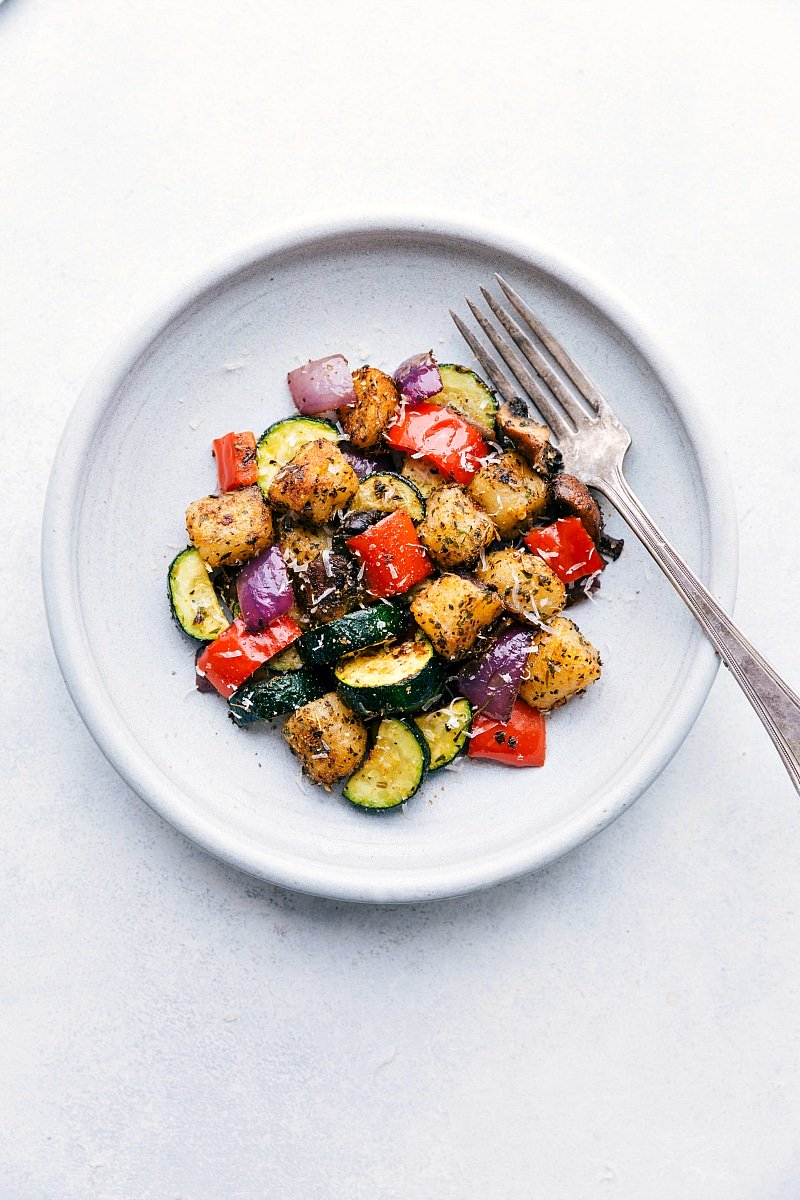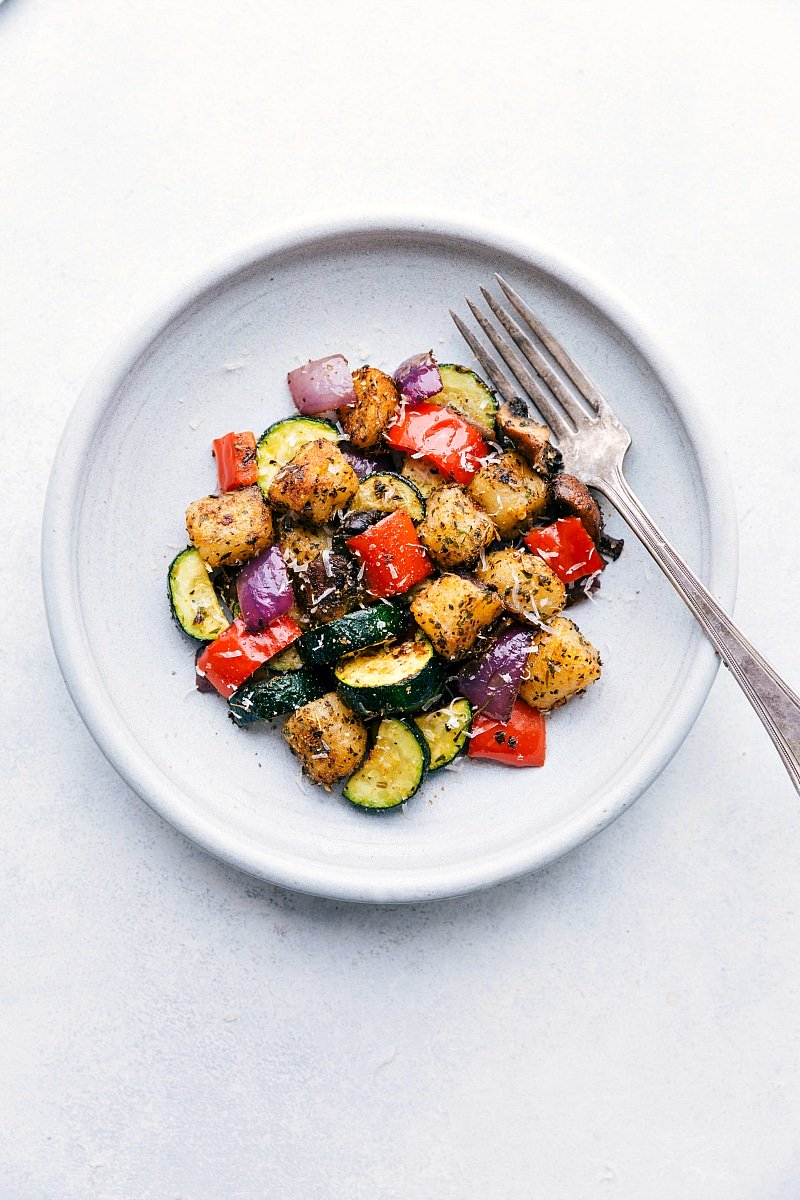 More easy one pan dinners: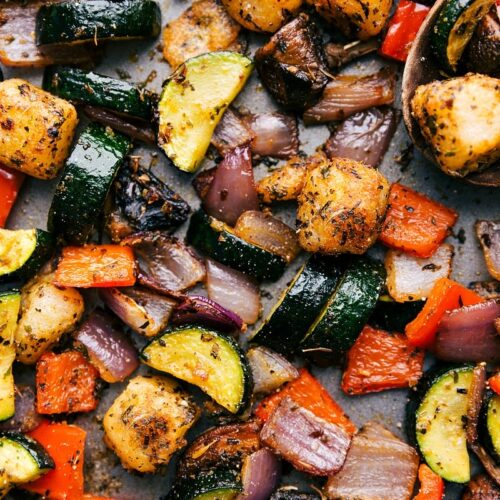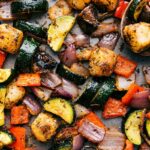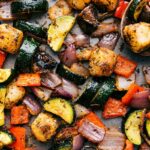 One Pan Oven Baked Gnocchi & Veggies
An easy one pan oven baked gnocchi & vegetables with a delicious seasoning mix and optional cilantro-herb sauce.
Course: Dinner
Cuisine: American, Vegetarian
Keyword: Baked Gnocchi
Servings: 4 servings
Calories: 183 kcal
Author: Chelsea
Ingredients
1

large

red onion

(2 cups), chopped

2

small-medium

zucchinis

(2 and 1/2 cups), sliced into half-moons

4

ounces

baby bella mushrooms,

halved or quartered depending on size

1

large

red bell pepper

(1 heaping cup), chopped

1

package (16 ounces)

frozen potato gnocchi,

uncooked and no need to thaw

3

tablespoons

olive oil

1/2

tablespoon EACH:

dried basil, dried oregano, dried parsley, garlic powder

1/2

teaspoon EACH:

onion powder, dried thyme, sweet paprika

1/8

teaspoon

red pepper flakes,

optional

Fine sea salt and freshly cracked pepper

Freshly grated Parmesan cheese

Optional: cilantro sauce or marinara sauce: see notes
Instructions
PREP THE VEGGIES: Preheat the oven to 425 degrees F. Chop the red onion into 1/2 inch pieces, slice the zucchinis in half and then half again to get half moons, half or quarter the mushrooms depending on size (quarter large ones and half smaller ones), and chop the red pepper into 1/2 inch pieces.

ADD TO SHEET PAN: add all the cut veggies to a large (full size; 26 x 18  inch) sheet pan or 2 half sheet pans. Add the gnocchi to the pan. Drizzle the olive oil over everything and then add all of the seasonings: dried basil, dried oregano, dried parsley, garlic powder, onion powder, dried thyme, sweet paprika, red pepper flakes (if desired), and salt & pepper to taste. I add 1/2 teaspoon salt and 1/4 teaspoon pepper, but add to preference, noting that the parmesan cheese also adds some saltiness. Toss until everything is well coated and then spread everything into an even layer so no veggies/gnocchi is overlapping.

BAKE: Bake for 10 minutes and then remove, flip and stir making sure everything still remains in 1 even layer. Return to the oven for another 8-13 minutes or until veggies are cooked to desired preference (we like them around 10 minutes). Remove from the oven. Grate parmesan cheese right on top (I like using a microplane to get finely grated cheese) and then taste for any additional salt if needed. Serve hot. If desired, add spoonfuls of herb-y cilantro sauce on top (see notes).
Recipe Notes
We love this meal as is, but if you're someone that likes sauces, we've also tried it with a few spoonfuls of marinara and this cilantro sauce. To make the optional cilantro sauce: combine the following in a food processor and pulse until combined: 1 minced garlic clove, 1 tablespoon minced shallot, 1 cup (loosely packed) coarsely chopped cilantro leaves, 1 and 1/2 tablespoons red wine vinegar, 1 tablespoon lemon juice, 1/4 cup olive oil, 1/4 teaspoon red pepper flakes, and salt and pepper to taste (I use 1/2 teaspoon salt and 1/4 teaspoon pepper).